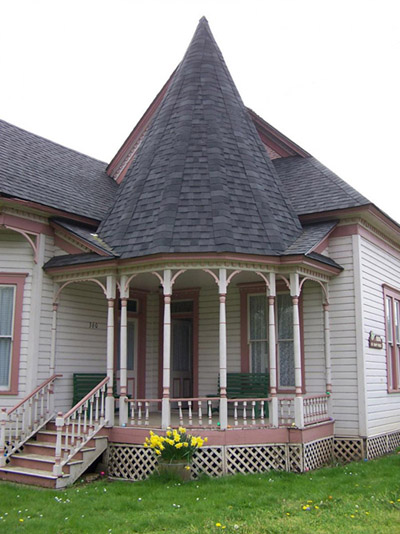 Have you heard? Singing Creek Educational Center has a very special new home in a place that's full of local history!
We will now be located in the historic Dr. Snapp House in Cottage Grove, OR at 360 River Road. The house is located along the Coast Fork of the Willamette River greenway. It is also adjacent to a large city park so there will be plenty of room for outside activities as well as our regular inside programs in this cozy home built in 1886.
The house bears the name of one of Cottage Grove's first physicians, Dr. G.O. Snapp. The doctor built the house to serve as his residence and office. The home has ornate exterior gingerbread features and a tall spire called a "witch's hat" atop the front entrance. It's a one-story house with 12.5 foot high ceilings throughout its interior and is decorated in period style.
An early advertisement in an 1899 issue of the Bohemia Nugget identifies Dr. Snapp as a physician and surgeon, who also extracted teeth. There are artifacts inside the house that tell more of the story of the early and colorful doctor who served patients in Cottage Grove around the turn of the last century.
The home also sits next to Silk Creek where Cottage Grove's first grist mill was located. The old grist mill is now a feed store across from the Snapp House where farmers and city folk alike come to buy their chicks, bunnies, farm and pet food.
There is also an historic "swinging bridge" near the house that is currently being renovated. This bridge served early school children who needed to cross the river to get to school located on the east side of the Willamette.