Meet Your Staff
Our volunteer and paid staff are committed to sharing nature and history with kids and families in a meaningful and inspiring way, teaching through discovery and taking advantage of natural teaching opportunities. We pride ourselves in our enthusiasm, knowledge, and patience.
Learn more about us on our Facebook Page.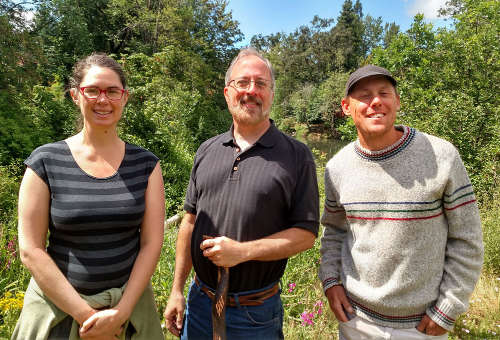 Executive Director – Karen Rainsong
Karen has a B.A. from Cal State University Northridge in Art, and a Certified Naturalist Certificate from the Siskiyou Field Institute in Oregon. She is a graphic designer, photographer, and passionate about history in general and Oregon history in particular. She is also a mother and an active part of the community.
She has always loved nature and natural interpretation. Throughout her years living in Eugene she has taught children in both traditional school settings and non-formal outdoor settings. Some of her favorite jobs included teaching natural history and local history at Homesource home-schooling center, teaching many different types of art and natural history courses for Lane Arts Council, and teaching as an Audobon In the Schools instructor and at Whole Earth Nature School.
Karen has worked with Kalapuya tribal elder Esther Stutzman, and has been a docent at the Museum of Natural and Cultural History (MNCH) at the U of O campus. She regularly engages in professional development and learning from Native people through webinars, classes, and demonstrations. In 2021 she was asked to lead a Kalapuya walk at Hendricks Park in Eugene. In 2022 she is spearheading a project to update the Kalapuya curriculum at SCEC and work with tribal members to create new educational materals for all. 
She was the Coordinator of the Alvord Farm and Museum from 2007- 2015, until founding the Singing Creek Educational Center in 2015. More about her can be found at her business web site: www.rainsongdesign.net.
Liza Starr Lilly –  Instructor
Elizabeth is a mother of four and has been an educational instructor for Singing Creek Educational Center since 2014. She teaches about the Kalapuya Native Americans (she is part Blackfoot Native) and also early pioneer life on the farm. She holds a BA in Fiber Arts from University of Oregon and teaches kids about our loom and other fiber arts handwork. Plus she loves to sing! She is an assistant teacher at a local Waldorf preschool and a Barefoot Books Ambassador. With a sweet, gentle personality, and a love of learning, she is a favorite with the kids.
Kevin Prier –  Instructor
Kevin Prier has a BS in biology from the University of Oregon and a doctoral dissertation in neurobiology at the University of Basel, Switzerland. With an extensive background in the sciences and math and more than 10 years tutoring and teaching experience from grade school to college level, he tutors science, math, and German at the elementary through college level and also works as a medical interpreter in German and French. His own children are in 10th grade and graduated and have been entirely home schooled. He has been teaching them science and math along with children from other home-schooled families, and was potions master for Homeschool Hogwarts for four years, teaching chemistry as Professor Abraxas. Kevin also teaches urban homesteading classes for adults through community centers in Eugene and Springfield, with workshops on gardening and foraging; fermenting sauerkraut, kimchi, and other vegetables; cheese and sausage making; soap making; and more.
Will Flint –  Instructor
 Will grew up in northern Utah and has been living in Oregon about 3 years. He is passionate about woodworking, folk-skills and bicycling. When he is not at the Snapp House, you can find him biking around town, working on bikes at the local shop, or walking his dog Briar Rose.
Jennifer Mandeville-Shultz –  Instructor
Jennifer Mandeville-Schulz has a BA in Music from George Fox University and has pursued a post baccalaureate in English from Portland State University. She has worked in private and public schools for the past 20 years and has also performed with local theater groups in Eugene and Cottage Grove for over 15 years. Jennifer was the playwright and director for the historical plays at the Bohemia Mining Days Festival in Cottage Grove in 2018 & 2019, funded through the Oregon Cultural Trust. She currently works at the Academy for Character Education Charter school teaching Latin and math using their classical education model. This allows her to teach her daughter from home part-time by taking advantage of ACE's hybrid system of home-schooling and biweekly group classes.  Presenting the Letters From the Trail curriculum for Singing Creek Educational Center is a perfect way for her to pair her love of history and storytelling with her passion for acting. And wherever Jennifer goes, you'll find her lovely daughter Sophia not far behind. They are sometimes known as the Dynamic Duo.