Kalapuya Ways Classroom Presentation
Engage your classroom with our interesting presentation about the First Peoples of the Willamette Valley, the Kalapuya, with an interpreter and hands-on activities. Our trained staff has many years of teaching about this topic and the style is inclusive and respectful. We strive to gently dispel myths and stereotypes and impart lasting impressions of dignity and respect.  Our historical interpreters do not "pretend" to be Native. We will remind your students that the Kalapuya people are still here.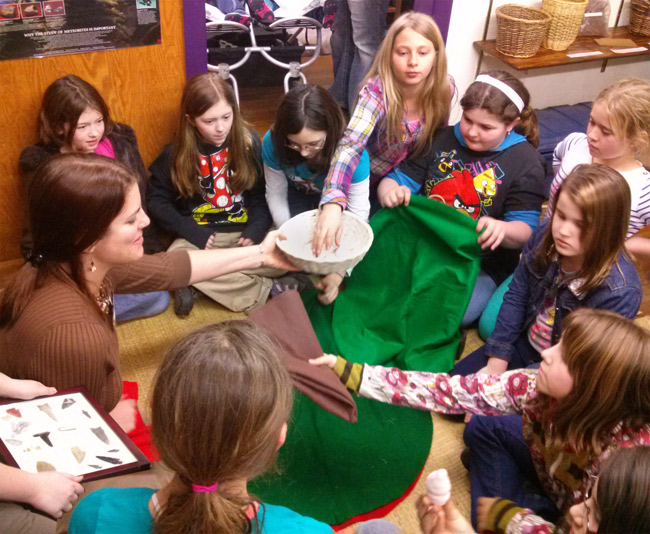 Topics may include:
Seasonal round of different activities/ locations throughout the year
Language
Traditional Foods/ hunting methods/ cooking
Clothing: mostly inner cedar bark
Transportation: walking/ canoes
Flintnapping: points/arrowheads
Dwellings: Cedar longhouses or temporary brush shelters
Fire starting: hand drill/ bow drill
What happened to the Kalapuya? settlement/reservations
What are the Kalapuya people doing today?
Reciprocity/ Respect for all life
We include a written curriculum for you with additional in-depth materials and resources online.
Cost
$50 per classroom
At this time we are booking on Monday or Friday afternoons only.
Download the promotional flyer here.
Optional add ons
Stick Dice Game- Learn how to play the stick dice game and make your own set to play with your friends! We provide the materials and instruction, 20 min.
$25
Kalapuya Creation Story Wolf Mask- Listen to a Kalapuya elder (online audio) tell the Kalapuya Creation Story and make your own wolf mask to go with it. We provide you with the pdf mask template to copy onto paper and the link to the online audio. You teach. Approx time: 35 min.
$15
See our other in classroom presentation: Letters from the Trail.