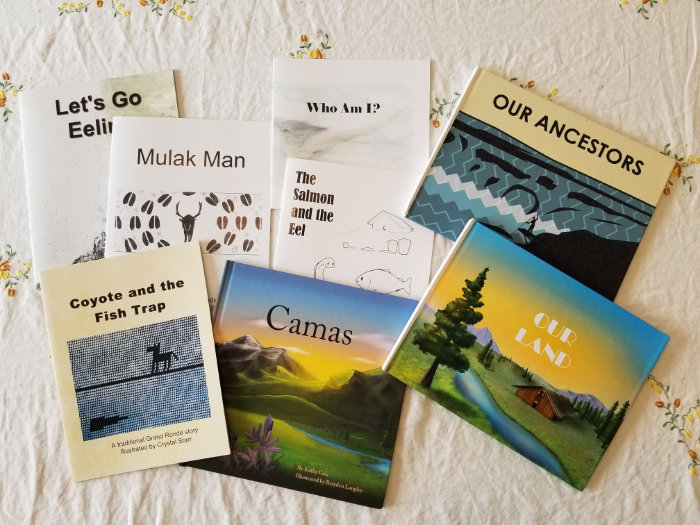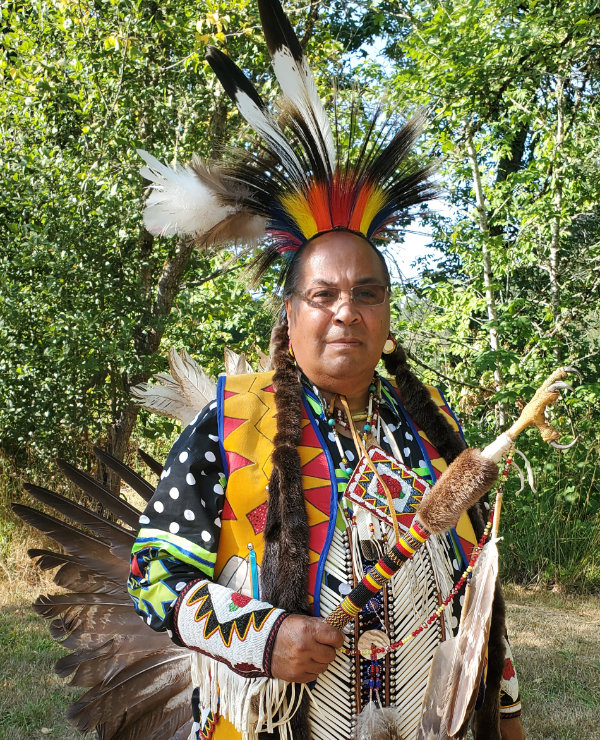 Deitrich Peters in regalia, photo by Karen Rainsong.
Deitrich Peters Bio
I was born in Dallas, Oregon and I'm a member of the Confederated Tribes of Grand Ronde. I am Kalapuya, Rouge River, and Umpqua. My given name is Cosa Tance, meaning "Sky Dancer". My English name is Deitrich David Peters. I was given both my grandfather's middle names. I grew up in Oregon and love to travel to as many cultural events as I can.
I love my culture and traditions – making things with my hands, working with feathers, beadwork, traditional dancing, storytelling and of course my all time favorite, flute playing. I have learned these many things from our elders, and have been gifted these things by the Creator.
Tribal History/Shared History Assessment 2022
In 2017, the Oregon state legislature enacted the Tribal History/Shared History initiative and directed the Oregon Department of Education's Office of Indian Education (ODE/OIE) to develop a K–12 Native American curriculum for all Oregon public schools. Since 2017, more than 45 lesson plans have been developed for grades four, eight, and ten across multiple content areas. During the 2020/21 academic year, ODE/OIE launched the first phase of implementation in these grade levels. According to the Tribal History/Shared History status assessment in 2022, for non-mandated grades (1st – 3rd), 66% of Educators said they were aware of Tribal History/Shared History. Only 26% of educators said they understood the concepts well enough to teach them. Only 36% of educators in Oregon said they feel moderately or well supported in teaching this curriculum. Curriculum directors expressed that those educators who know about the initiative show interest in implementing—as one participant put it, teachers are "begging for it. We want this, we want this historical knowledge…" Curriculum developed by the Confederated Tribes of Grand Ronde for K – 2 grades has been under-utilized in Oregon as shown by the assessment.
We intend to reach not only schoolchildren, but homeschoolers and teachers/parents as well. With the added special event of a Grand Ronde Tribal member speaker to share regalia, storytelling and music, as well as answer questions, this series will bridge the gap between the creation and delivery of the Tribal History/Shared History curriculum in these communities. This pilot year of the program will allows us to gather data about how local communities react to this educational experience and how we can improve it for future years.
Acorn Circle: Native American Library Teaching Program
Overview
The Acorn Circle program will bring Native American culture and children's education to three libraries in Fall 2023. Singing Creek Educational Center (SCEC) is proud to partner with Cottage Grove, Creswell, and Springfield libraries to provide this educational program. Funding and staffing are provided by SCEC and facilities and marketing are provided by the libraries. Each library receives three sessions for children including a book reading and a craft project, utilizing curriculum from the Confederated Tribes of Grand Ronde. In November, SCEC and the libraries will host a Native American speaker for a free public event, to include storytelling and a presentation. 
Our Executive Director, Karen Rainsong, has been getting to know the Indigenous community locally for many years. She regularly teaches at and participates in the Native American Cultural Encampments that happen during the summer in Lane County, with Deitrich Peters and his extended family and community. Karen brings the Kalapuya Ways presentation items, as well as atlatls, cordage making, storytelling and children's crafts to these campouts. Karen comes to this work from a place of respect, humility, listening and cooperation. Read more here.

Curriculum
The curriculum includes story books published by the Confederated Tribes of Grand Ronde (CTGR), as well as some activities. SCEC will also provide a craft to go along with the CTGR curriculum.  Trained SCEC staff will lead these sessions for children aged 6 – 10 and provide the supplies and instruction. Books include "Let's Go Eeling", "Mulak Man" and "Coyote and the Fish Trap." SCEC owns these books and has made arrangements for each library to receive a copy of the set. This program has been approved by Cheyanne Heidt, the Curriculum Specialist for the Confed. Tribes of Grand Ronde. SEE MORE HERE.
Teachers are Welcome
We invite teachers to attend this program, to get ideas for how to bring these lessons into the classroom for younger ages. Teachers do not need to RSVP for this program. Please see the sidebar to learn more about the Tribal History/Shared History teaching assessment that was done in 2022, showing the need for this support.
Cultural Presentation
SCEC will provide a storytelling/speaking event at each library in November (coincides with Native American Heritage Month) with Deitrich Peters of the Grand Ronde Tribe. Deitrich (Deitz) has graciously agreed to share elements of his regalia and will play flute music, talk about his culture, and take questions. SCEC Executive Director Karen Rainsong will attend and display items of Kalapuya material culture. All are welcome at this family-friendly event.
Connect with Us
We need community support for this program, and are happy to talk with you about ways you can participate. Please contact our Executive Director, Karen Rainsong, at 541 968-1986 or director@singingcreekcenter.org to learn more. Donations, whether cash or in-kind, are appreciated and help support our mission of inspiring appreciation for local history through hands-on learning.
We are a 501 c(3) non profit located in Cottage Grove, Oregon and our EIN # is 47-3354809.
DATES + TIMES
Creswell Library
Thurs., Oct 5th, 3:30pm KICKOFF CELEBRATION! Let's Go Eeling
Thurs., Oct 19th, 3:30pm Mulak Man
Thurs., Oct 26th, 3:30pm Coyote and the Fish Trap
Cultural Presentation: Sat., Nov 4th, 2pm- 3pm 
Cottage Grove Library
Wed., Oct 11th, 3:30pm Let's Go Eeling
Mon., Oct 23rd, 3:30pm Mulak Man
Wed., Nov 8th, 3:30pm Coyote and the Fish Trap
Cultural Presentation: Friday, Nov 17th, 6:30pm – 7:30pm
Springfield Library
Fri., Oct 13th 1:30pm Let's Go Eeling
Fri., Oct 27th, 1:30pm Mulak Man
Fri., Nov 17th, 1:30pm Coyote and the Fish Trap
Cultural Presentation: Sat., Nov 18th, 11:00 am – 12:00pm