Letters From the Trail Program
Teachers, sign up now for this exciting new program that brings the Oregon Trail to life in your classroom.
Cost is $100 per visit.
"Mrs Annabelle Smith" will come to your classroom to do a 20-30 minute presentation about what it was like on the Oregon Trail in 1856 and deliver 15 letters to your classroom. These carefully researched letters are imagined accounts from the perspective of children (both boys and girls) migrating to the West. These messages through time describe the hopes, dreams, fears, stories, and memories of children aged 8-15. They come from different parts on the journey, and some are written back home to loved ones, and others are written to kin waiting in Oregon. The program is designed to be presented to one classroom at a time, to allow for a more intimate setting and more children's questions to be answered. We include a written curriculum plan for you, aligned to the 4th grade Oregon standards for literature, writing, speaking and listening, and presentation of knowledge and ideas. You will get a curriculum packet beforehand that includes a handout for the students with questions to answer such as:
"What resources does the author have in order to get to Oregon safely?
Do you think they will make it? "Why or why not?"
"What does the letter tell you about the author's family?" and more.
Your students will then present to the whole class, and also write a return letter (optional.)
These letters have been painstakingly researched and written by Karen Rainsong, our Executive Director. Sources include actual journals written on the Oregon Trail as well as documentary films and articles.
Please feel free to scan and send to us the best reply letters from your class- we would love to show them off own our website and in local library cases!
The curriculum is unique to Singing Creek Educational Center.  It's all part of fulfilling our mission to bring history to life for Lane County children.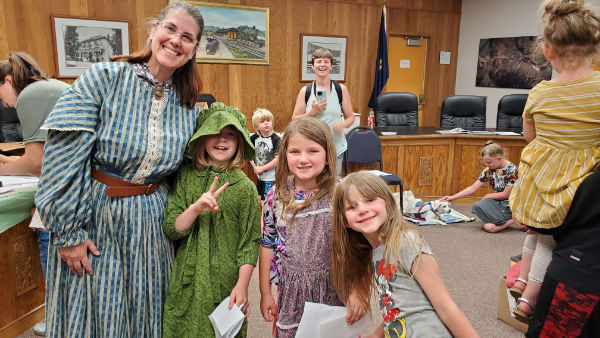 Mrs. Annabelle Smith (aka Karen Rainsong) brings this fun program to libraries!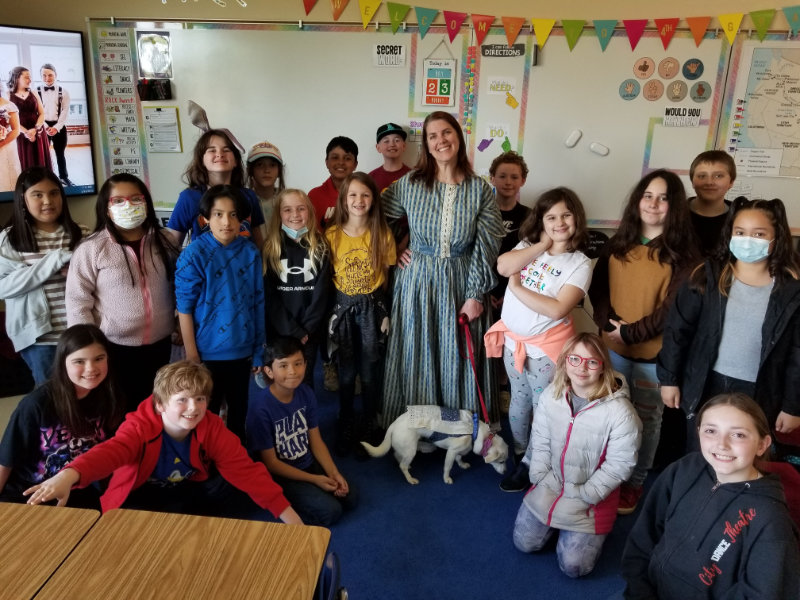 "My students loved hearing a real-life experience from a pioneer. Your character had a depth of detailed knowledge and backstory. You were prepared for any question that my students asked. My students liked that the details you shared directly connected with the Oregon Trail lessons we have been learning in class. You were incredibly patient with our students and were able to capture their attention with your wonderful stories.
We also really enjoyed the pioneer letter activity that you left for us. The students enjoyed reading the letters and it helped spark their creativity for when they write their own pioneer journal."
Julie Gill (Lorentz)
4th Grade Teacher, Gubser Elementary