NEW! One-Day Pioneering Camp in Eugene
Learn what it was like to be an Oregon settler in 1890 at the Shelton McMurphey Johnson House in Eugene.  Pioneer dress-up clothes of all types are available or bring your own. Fun activities and authentic "chores", games and crafts await you! Activities may include: churning butter, grinding grain, finger crocheting, sewing, square dancing, quill pen writing, outdoor games and more! You will have lots of homemade crafts to take home at the end of the day. Perfect for children ages 6 -11. Our instructor is Liza Starr-Lily, a Waldorf teacher and mother of four. She has been working for us for 7 years and kids love her!
Date: Wed. August 23rd
Cost: $90 per child; $70 each for siblings
Location: Shelton McMurphey Johnson House, 303 Willamette St. Eugene, OR
Time: 9am to 3pm
Size of camp: Only 12 kids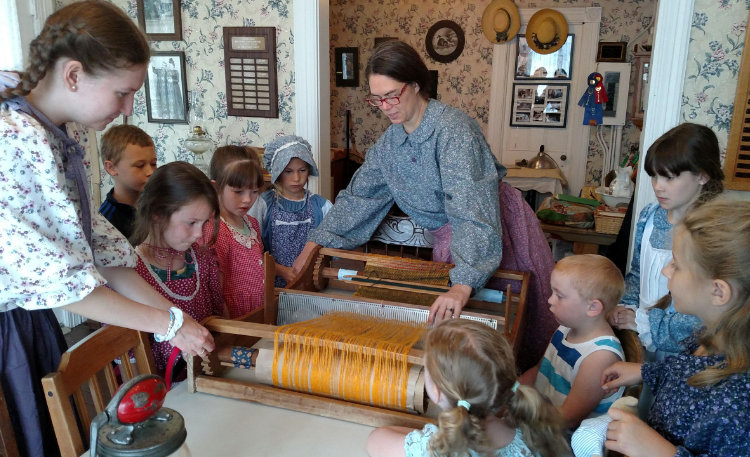 Fun, History-Based Summer Camps
Dates for 2023
June 19 – 23, Pueblos Camp (Guatemalan & Latino children)
June 26 – 30, Pueblos Camp (Guatemalan & Latino children)
July 17 – 21, Pioneer Homesteading, FULL. 
August 14 – 18, Pioneer Homesteading, FULL
Kids 13 and up may be Junior Helpers- see details below.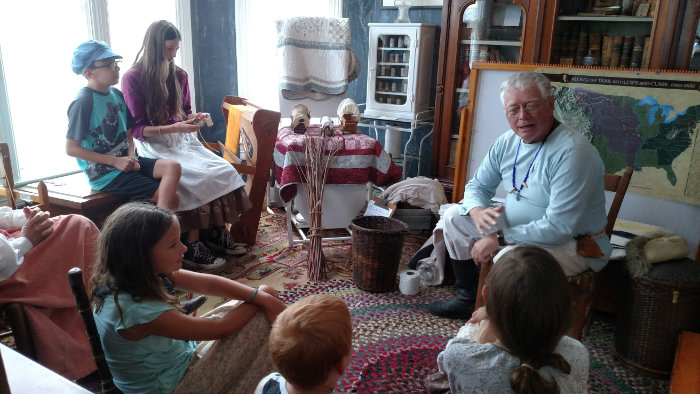 Special guest at camp teaches us about the fur trade in the 1790's- 1840's.
We have been doing children's history based summer camps for 15 years!
Each camp will feature crafts, games, stories, outside exploration, walking field trips in the park, cooking, and more! Enjoy visits from special guests who will teach us, trade with us, or share stories.  Read about the values children learn in our summer camps.
Times are Monday- Friday 9am to 2pm. Children aged 6-10 are welcome. Eleven year olds may also register if they are really into the theme and motivated- they may be asked to help out a bit with the younger ones. Children bring their own lunches and water bottle each day.
Cost: $230 per week
Siblings in the same camp: $200 each per week.
Scholarships for low income families are available, see the form below.
Instructors are vaccinated for COVID. Camps  are limited to 10 children. 
Location: the Dorena Grange, 34360 Row River Rd, Cottage Grove, OR 
Time: 9am to 2pm each day
(After-care may be available for your child if you need it; contact us for info)
SCROLL DOWN for Registration Details.
WAITLIST FOR AUGUST CAMP: email Karen at director@singingcreekcenter.org with your child's name, age, and your city of residence.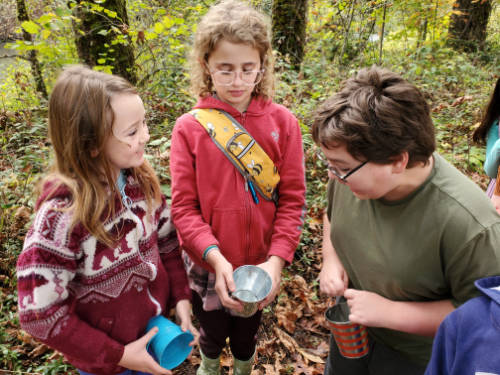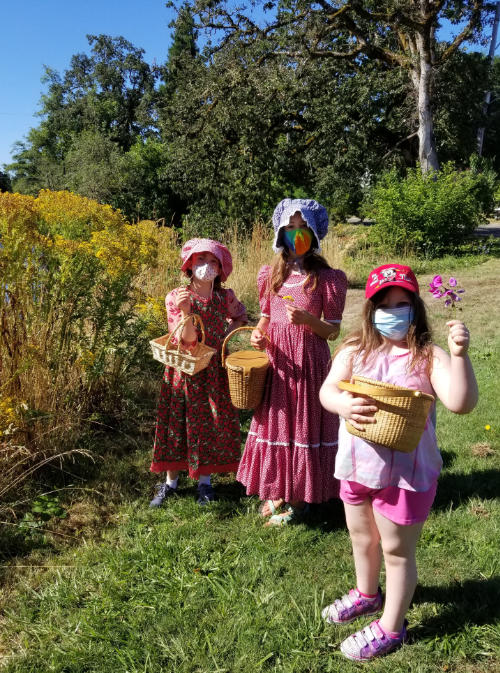 Focusing on Guatemalan and Latino history & culture, this camp is for low-income families whose primary language is Spanish. The camp has a Spanish/English speaking instructor.  Kids enjoy games, crafts, cooking, songs, stories and outdoor exploration time, within the theme of history and traditions of Latin America, including Guatemala and Mexico. Special guests share their expertise in areas of cooking and fiber arts such as weaving, basket making, and more!
This camp is free to qualifying families, and signups are by emailing our director.  Our instructor, Janet Hernandez, will be helping with registration and translation for parents. Transportation from the Cottage Grove Library partking lot and snacks/lunches each day are provided.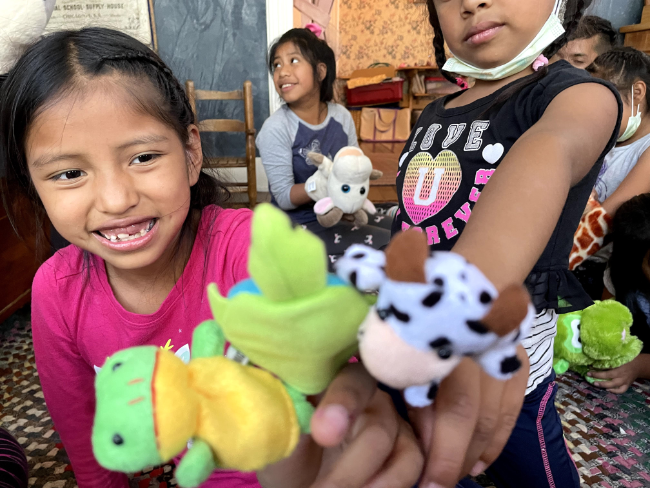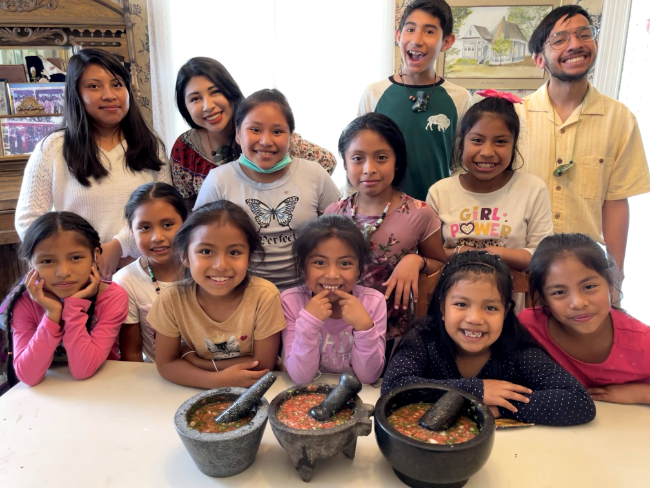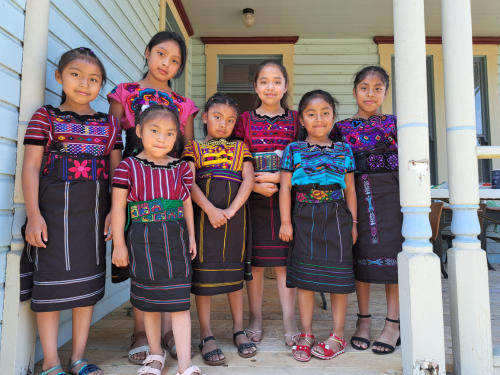 Pioneer Homesteading Summer Camp
GIRL SCOUTS: This camp is suitable for earning your "Playing the Past" badge!
Our theme is pioneer homesteading, as in the books "Little House on the Prairie." Each day will provide some structured learning activities, arts and crafts, and play time. Some of our favorite activities include sewing, playing school, churning butter, grinding grain, washing clothes on the washboard, making herbal medicines, creating shadow puppet plays and learning pioneer games. See our blog post about the "letter writing" component of camp. After you register you will get a more detailed explanation of our schedule, policies and more.

Camps remain on site of the Singing Creek Educational Center, are pre-pay only, and sack lunch must be provided each day for your child. Children age 6-10 are welcome at this camp. Eleven year olds may also register if they are really into the theme and motivated- they may be asked to help out a bit with the younger ones. Pre-registration is required to attend. If you have any special needs for your child we ask you to let us know in advance. Carpools are often arranged by the participants. Also, if you have an older child (ages 13 and up) who has attended our camp before and would like to attend as a junior camp helper, talk to us for information. Junior camp helpers do not pay a fee to attend.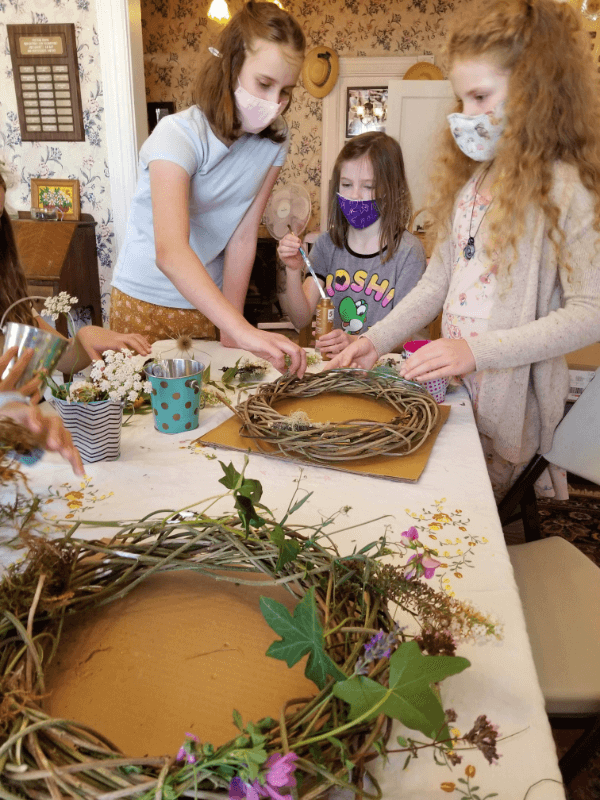 Lewis & Clark Explorers Summer Camp
We are taking a break from this camp this year, we will see you in 2024!
Spend a week on the Lewis & Clark expedition! Be a part of the Corp of Discovery and go back in time to 1805. Learn how to make cordage out of nettle fibers, learn how to strike a flint and steel, track animals, make your own journal, learn to use a compass, meet some fur trappers, set up camp, explore the river's edge and more! This camp is perfect for kids who have already done our pioneer camps and want a new experience. We'll have costumed interpreters come to the camp to share their wisdom with us, like Hudson's Bay Co Trappers and more.
Write a letter to President Jefferson about your discoveries, "cache" some extra supplies for some of your group to find, and do some trading of supplies. Learn some Chinook "wawa" – trade language- and explore the journey from the perspective of Seaman, the dog who went on this voyage of discovery.
This camp includes lots of outdoor time; dress accordingly. We always have some dress up clothes on hand to get in the style of the 1800's.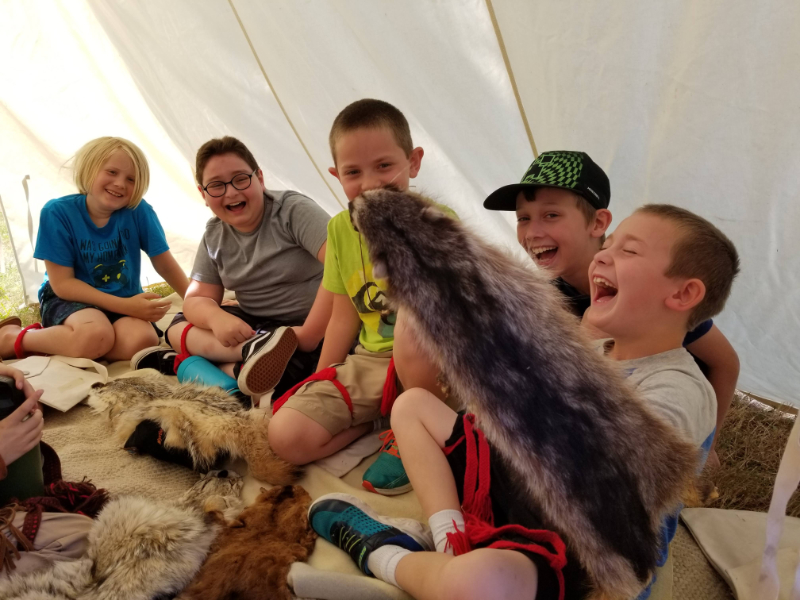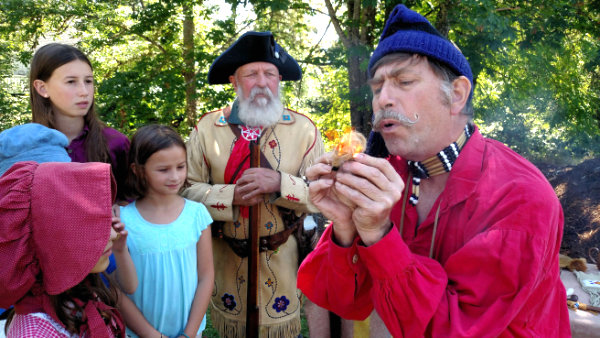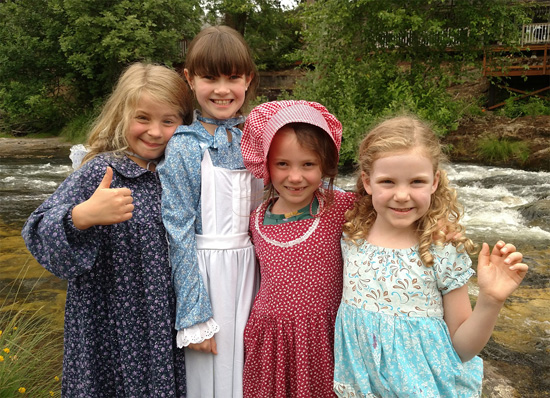 We are taking a break from this camp this year, we will see you in 2024!
Opal's World: Kinship with Nature
Learn about the famous pioneer girl, Opal Whiteley, as you explore nature! Opal was a nature lover who kept a childhood diary relating her adventures in the woods around Cottage Grove, including her "explores" with her animal friends. We will make fairy houses, create a journal and write and sketch in nature, explore around the park and the river, and discover pioneer life.
Enjoy visits from special guests who teach us about eco-friendly living, how to take care of the Earth and reduce our waste. Opal would appreciate our lessons on how to be kind to all beings and the Earth.
We'll have lots of fun as we learn to appreciate Opal's youthful relationship to the natural world.
You can wear your own dress up clothes or borrow some of ours.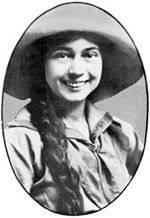 Learn More About Opal Whiteley here: http://www.opalonline.org/
Opal's childhood nature diary, The Singing Creek Where the Willows Grow, is our namesake. Our Executive Director, Karen Rainsong, shares an ancestor with Opal. So it's near to our hearts!
This summer camp was made possible by a grant from the Lane County Historical Society. 
A blind girl (purple shirt) and her helper having fun at summer camp with us. This was pre-Covid.
Special Needs?
We are happy to work with children with special needs and work with you to provide the most inclusive and appropriate experience for your child. Please let us know in advance if your child has special needs so we can discuss this and how we can adapt our space and curriculum. We are committed to anti-discrimination and equity in our organization and programs.
Non-binary or gender neutral kids are welcome at our camp! We model and teach respect for each other including all the ways we are different.
Junior Camp Helpers
We welcome kids ages 13 and up as helpers to the camps. You must have experience helping with younger kids (such as at our camps or another camp.) Junior helpers are expected to come 15 minutes early and stay 15 minutes late to help with set up and clean up. They assist with crafts, games and activities and are often able to do the activities themselves. This is a really fun way to enjoy the camp but also gain work experience and be part of a team. There is no fee for their participation, as they are doing work trade. We can provide a letter of recommendation if requested. Join us and have fun!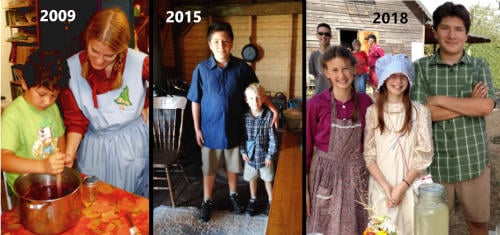 "I started going to this camp when I was six years old, and I didn't know whether or not I would like it. But then I kept going summer after summer. To me, this camp means meeting new people, making friends, and participating in fun activities. Being a junior leader for the past few years has been really fun. Being able to gain respect from younger campers is cool, but it is also fun to join them in games, jam making and other stuff."
Registration Details for Camps
A $30 deposit is required to hold your space when you register. This deposit is subtracted from your final payment for the camp. Please make checks payable to Singing Creek Educational Center. When you register with our form online you will be taken to Paypal to complete your payment. If you prefer to mail a check just cancel out of paypal and we will still get your form submission. Then email us that you are sending a check instead.
More questions? Check out our FAQ's page.
The remainder of your camp fees are due two weeks before camp starts. We will send out reminders to parents which will include schedule for the week, camp regulations, and checklist. Remember our mailing address is different than our site address!
Please consider adding yourself to the waiting list if a camp is full. Sometimes last minute cancellations happen and we may have a space open. Contact us for more information about waiting lists.
Mailing Address: Singing Creek Ed Center, PO Box 1012 Cottage Grove, OR 97424
Physical Address of Camp: For Los Pueblos Camps: Prospector's Park on South River Rd. in Cottage Grove. For Homesteading camps: Dorena Grange: 34360 Row River Rd, Cottage Grove. For One-Day Camp: SMJ House, 303 Willamette St., Eugene, OR
Late Pick-up Policy: We understand that sometimes there are unforeseen circumstances which could cause you to be late. We allow 15 minutes after the end of the camp for you to pick up your child without penalty. From 16-25 minutes late, we charge a flat fee of $5.00. For every additional minute after this, we charge $1 per minute. We do this in order to make every effort to support and compensate our instructors for the time they invest. We need our team leaders to be able to go home and be with their own families, rest and return to care for children the next day.
Cancellation policy: In case of severe weather such as wildfire smoke that is hazardous to breathe or increased risk of pandemic diseases we may cancel summer camp. If we need to cancel the camp you will receive a refund minus the $30 deposit, which can remain as a credit on your account for a future summer camp or homeschool class (or you can choose to donate that to us.)
Discipline policy
We do not tolerate any kind of bullying, harassment, aggressive or exclusionary behavior. Campers are asked to comply with requests made by staff and abide by all camp rules. Verbal reminders will be given, and if problem or difficult behavior continues, we may ask a camper to sit out (take a break with supervision) from an activity. If behavior continues to be an issue, the camper's parents may be called to assist with or pick up their child. We reserve the right to expel a camper from the remainder of camp if the camper's behavior warrants it, without a refund.
Instructors do not physically restrain a child unless it is in the immediate safety interests of the other campers, volunteers, or the child themselves. Our goal is for everyone to feel safe and respected while having fun. Please contact our Executive Director if you have questions about the discipline policy.
Refund Policy:
Up to 14 days before the first day of the program you may cancel your child's enrollment and receive a refund.
Cancellations made less than 14 days before the first day of the program will not be refunded.
Registrations and fees are non-transferable.
Questions? See our FAQ's page.