Field Trips for Your Class or Group
We offer exciting historical field trips in Cottage Grove and Eugene during the school year, September through June. We've been leading field trips for 15 years. Our instructors are trained to bring history to life in culturally responsive ways for your class. Our Kalapuya curriculum has been vetted by the Grand Ronde Curriculum Specialist and includes some discussion about realities of what happened to the Indigenous people of Oregon and current day reclaiming of traditions, language, culture and land.
Scroll down to view the different field trips we offer. Would you like a custom field trip? Contact us to share your needs.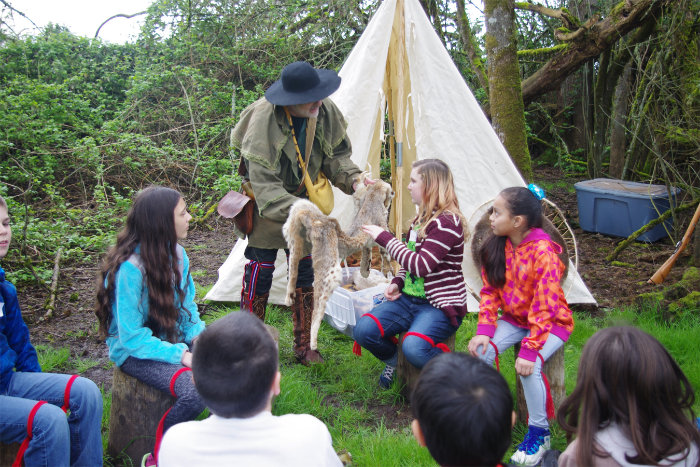 Our goals for your class field trip are:
Connecting the dots/ Relatable history
Big picture thinking/ tying it all together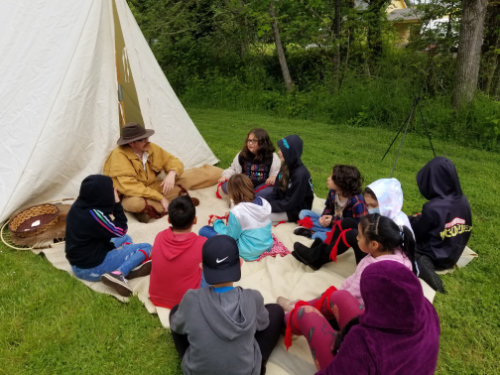 "Our class enjoyed the Travel in Time field trip at Singing Creek Educational Center. The field trip supported our 4th grade social studies standards and enriched out class curriculum. Students loved the games and learning outside while discovering the historical significance of their own backyard (Cottage Grove)."
Katharine Hawks
Bohemia Elem. 4th Grade
TRAVEL IN TIME Field Trip
Experience local history with hands-on activities. Your 3rd – 5th grade school group will learn about life as a pioneer, trapper, and Kalapuya Native American with hands-on experiences and experienced history interpreters. For 2023, the field trip will be at the historic Shelton McMurphey Johnson House, then your class will break into three groups and go with a historical interpreter to learn. The Kalapuya group will learn about foods, housing, tools, language and about the Kalapuya today, as well as Indigenous/settler relationships. In the trappers group, students will learn about trade goods, early tools, lifestyle and clothing, and animal furs. The pioneer group will learn about the Oregon Trail,  settler life, local history and the occupants of the SMJ House. They will explore historic items and guess how they were used. Each group will rotate after 30 minutes so each student can experience all three historical learning opportunities.
We re-convene in the lobby of the SMJ house to say goodbye and to get back on the bus.  If your group would like to stay to eat sack lunches, please arrange this with us beforehand.
ADDRESS of SMJ HOUSE:
303 Willamette Street, Eugene, Oregon 97401
Enter Driveway at Third and Pearl Streets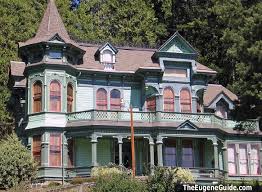 Note: Though the trapper's items include a flintlock rifle and a knife, these items are safely secured, never passed around to the children, and the rifle is zip-tied and well as never loaded (no gunpowder on site ever). Rest assured your student's safey and well being is our top priority.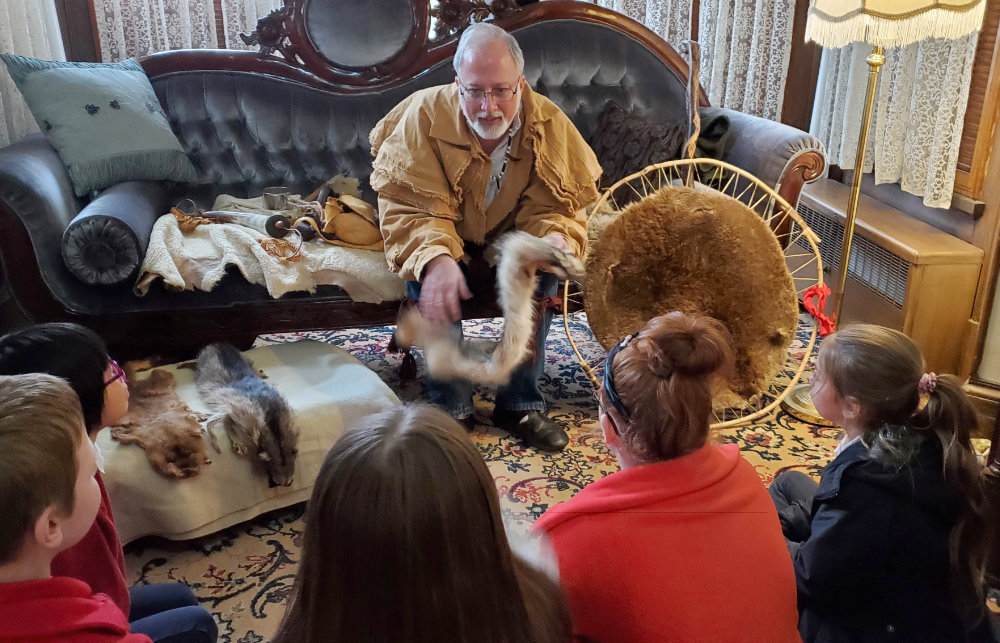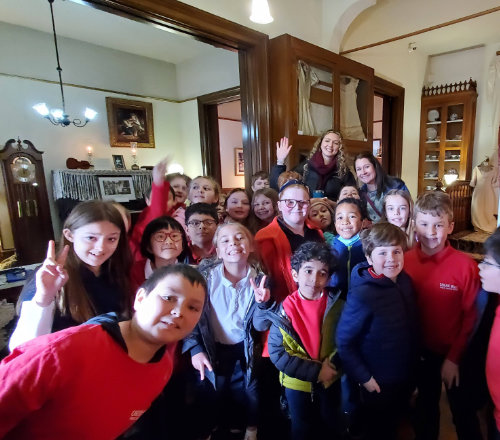 Cascade Heights 3rd grade class had an amazing time learning all about Oregon's history and the people who were Native to the area! Singing Creek Educational Center and everyone at the SMJ house were extremely welcoming and accommodating. Thank you for an amazing field trip!!
-Muriel Smith, Cascade Heights Elem, Clackamas
LEWIS & CLARK: EXPLORERS Field Trip
Go back in time and help discover Oregon on the Lewis and Clark Expedition, with fun hands-on activities! Your third, fourth, or fifth grade class will learn about the Corp of Discovery and their famous expedition to find the Northwest Passage, establish peace with the Native Americans, map the American West, and discover new species along the way. This famous journey (1803 – 1806) paved the way for westward expansion and brought new scientific and practical knowledge. Learn about the people who went on the journey, some of the adventures, about the Indigenous people encountered along the way, and make a few discoveries and a map of your own in your journal (provided.) Your class will split into three groups led by an instructor, each with a different focus.  Learn about trade items, Native American language and customs, over-wintering at the fort, map making, local plants and animals, and about Seaman the dog.  We re-convene for a final wrap up and travel forward in time to the present.
Optional Add-on: For a small fee we can do a 20 minute classroom slideshow presentation in-person beforehand. This "prep session" will give your class some background on the expedition and expectations for the field trip.
"Singing Creek Educational Center is great! I attended with my ten year old son who has a disability and they were very supportive in listening to what his needs were and allowing him to participate as fully as any other child would. I fully recommend anyone to this wonderful organization."
"My class had a great time at the Singing Creek Center! They especially liked all the hands-on activities. They really enjoyed trying to write their names and drawing maps using the quill pens. The staff at the Singing Creek Center even dressed up to enhance the experience. We are looking forward to coming back again next year!"
Steve Sadiq
Dorena 4/5 Teacher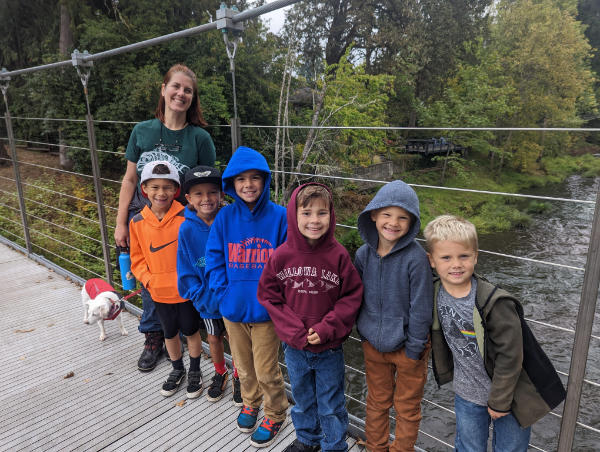 "Our homeschool group did the Lewis and Clark program and had so much fun and learned a lot!  Each of our three groups had a unique experience and were thrilled to be able to take home souvenirs from our day.  I highly recommend this program!"
Field Trip Pricing

$7 per child, with a $100 minimum. Adult Chaperones are free.
If you have a small group we can do the field trip with one or two groups only.  Our maximum is 35 kids.
12 children or less, ONE GROUP
13-21 children, TWO GROUPS
22-35 children, THREE GROUPS
Field trips last for two hours and are usually scheduled from 9:30am to 11:30am.  After your field trip, your group is welcome to stay and eat lunch nearby.
We will send you a packet of information about preparing for your field trip as well as background information and what to expect.
Contact our Director, Karen Rainsong, for more information.
Want more information about local history and nature? Check out our Resources page with over 60 links to educational resources on the web!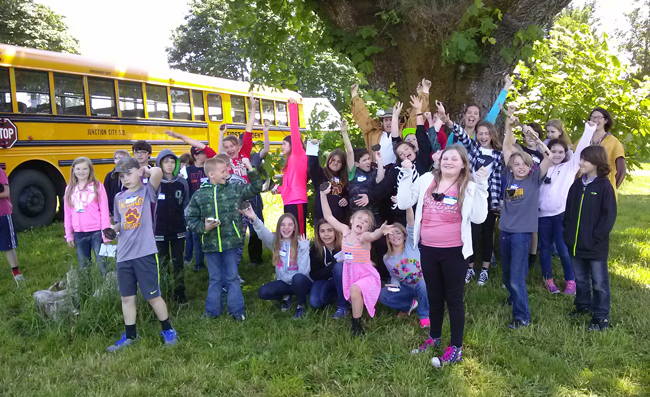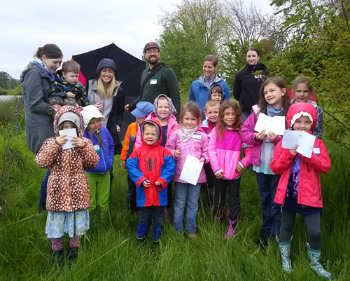 Custom Homeschool Field Trips too!