About Us
History of Singing Creek Educational Center
From 2007 until 2015 Karen Rainsong, our Executive Director, coordinated educational programs at the Alvord Farm and Museum in West Eugene, including summer camps, workshops, field trips, and special events like baby farm animals day. After seven years, we outgrew the space and needed a new home. We then moved to the farm of Sue and Tom Hunton, owners of Camas Country Mill & Schoolhouse. We were located there until Spring 2019, when we relocated to the Snapp House in Cottage Grove. We moved rom the Snapp House in November 2022.  Today, Singing Creek Educational Center serves about 1000 children (plus adults) annually with our many programs and events. We are looking for volunteers that would like to serve on our board and committees, or would like to intern. If you have a particular skill to share contact us to talk about how you can help. Contact Karen for more info at: director@singingcreekcenter.org.
We are proud to be a member of the Association for Living History, Farm and Agricultural Museums.

Karen and kids at the Alvord Farm and Museum pond.
Formerly at the Snapp House in Cottage Grove
History of the House:  Dr. G.O. Snapp was an early Cottage Grove doctor who built the house to serve as his residence and office. It has ornate gingerbread features and a tall spire. It is a one story house with an unfinished attic and 12.5 foot high ceilings.
An early advertisement in an 1899 issue of the Bohemia Nugget identifies him as a physician and surgeon, who also extracted teeth.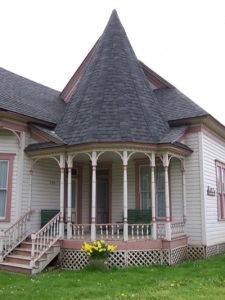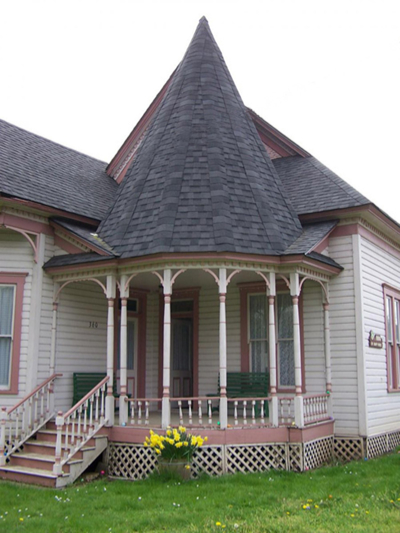 About 1900, Dr. Snapp sold the house to Mr. Markley who ran the saloon across the street. After the death of her husband, Mrs. Markley rented out rooms, often to county boys who attened high school in town. By 1940, her advancing years required Mrs. Markley to move to California to be near her son's family and the house became a rental until 1960, and was known as the Markley house.
The family sold the house to Mr. Warren Daugherty who sold it to Mrs. Ray Nelson and Mrs. Taylor Young, who used it as The Story Book House Gift Shop, located on River Road just south of Main Street.
In 1966, the Lane County Housing Authority purchased the property to build Riverview Terrace Apartments for low income seniors and arranged for the house's destruction in a "burn to learn" exercise for the fire department. The Bohemia Mining Days Committee of the Prospectors & Golddiggers Club purchased it for $1 and relocated it to its present site on South River Road next to Silk Creek.
The original vision for the house was to be part of a small village that included a replicas of a Victorian era mercantile and livery stable for residents and tourists to enjoy. Changes in state land use laws in the 1970's soon prohibited that type of intensive development in a flood zone and the Dr. Snapp House now stands alone next to Prospector Park, just a short walk from the popular swinging bridge across the river.
Today the Prospectors & Golddiggers Club has furnished the historic house with period furniture that was common when it belonged to Dr. Snapp. In 2010-11, with generous support from the community and local philanthropists, the P&G members rebuilt the porches. After the intense fire that consumed the historic barn next to the Old Mill Feed Store blistered the paint on the house's west wall, the group hired a professional painter to repaint the house.
Our Policies
We do our best to ensure your safety and the safety and peacefulness of the property at all times. We ask you to observe our safety rules when visiting Singing Creek Center.
The Singing Creek Educational Center, located in Cottage Grove, Oregon, is open during pre-arranged events only, and pre-registration is usually required. See our Events calendar for listings of events, and please respect the property. Please do not bring your pets inside the building, except official assistance dogs, who must be kept leashed at all times.
Use caution near the river edge on the property, as it is a steep and sometimes slippery slope.
Knives and other weapons- Settlers, Trappers, and Native Peoples made use of tools such as knives and guns, but during camps or tours we do not allow these. The only exceptions may be our "Trapper" or "Mountain Man" interpreters, with muzzle loader type replica or real weapons which will never be loaded on site, and will be kept safe on their persons. Please do not bring knives or guns to camp, even artifacts or pretend ones. The only knives children may use would be butter knives on cooking day. If your older child is interested in knife skills, we recommend our friends at Whole Earth Nature School who offer training in that area.
Please comply with all requests from our staff and guides while visiting us. Please maintain a respectful demeanor including driving slowly, respecting wildlife, keeping outside noise down, and picking up all your trash before leaving. This helps us all have a great time, and may improve your chances to see wildlife. Thank you!
Physical Address of Site
We are in transition right now between homes; stay tuned for our new address.