History of Singing Creek Educational Center
From 2007 until 2015 Karen coordinated educational programs at the Alvord Farm and Museum in West Eugene, including summer camps, workshops, field trips, and special events like baby farm animals day. After seven years, we outgrew the space and needed a new home. We are so pleased to have found the Camas Country Mill and Sue and Tom Hunton. Their property, in Junction City, is the perfect place for our history themed camps, classes, field trips and special events. Today, Singing Creek Educational Center serves about 1000 children (plus adults) annually with our many programs and events. We are looking for volunteers that would like to serve on our board and committees, or would like to intern. If you have a particular skill to share contact us to talk about how you can help. Contact Karen for more info at: karen@singingcreekcenter.org.
We are proud to be a member of the Association for Living History, Farm and Agricultural Museums.

About Camas Country Mill and the Huntons
Tom and Sue Hunton have a family-owned farm and business, and produce many of the flours you find locally in restaurants and stores. They own Camas Country Mill and you can often find them at local farmers markets and advocating for locally grown foods and responsible farming. With a true love of the land and the animals that live there, they are model stewards of the land. When I met them they gave me a tour of the place, pointing out the herons, kingfishers and eagles among the many wild birds that live there. They can tell you about the trees on the property, the fish in the creek, and even about the fox den over by the pioneer cemetery. For more information visit their website at http://camas.squarespace.com/.
The Huntons own the one-room pioneer schoolhouse built in 1898 that has been moved to the property and restored. You can watch a video on their website about the process of moving it and the history they brought back to the community. The Schoolhouse is next to the commercial kitchen and farm store, which can be rented for parties, weddings, and other special events. Contact the Huntons through their web site.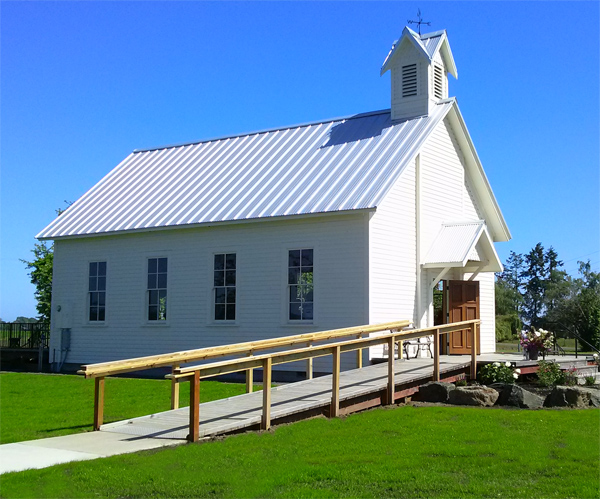 Camas Country Mill is the natural extension of the Hunton family's third generation farm, with deep roots in the Willamette Valley land and community for over fifty years. We grow conventional, transitional and organic grains, cereals and legumes on our farm, and mill small batches of artisan flour just down the road at our stone-burr mill.

We are committed to building a strong, sustainable and vibrant regional grain economy, and are proud to supply home and commercial kitchens with grains and mill products from the heart of the valley.
Watch the video about the Huntons and their commitment to the land and quality products:
Our Policies
We do our best to ensure your safety and the safety and peacefulness of the property and residents at all times. We ask you to observe our safety rules when visiting Singing Creek Center.
The Singing Creek Educational Center, located at the home and property of Tom and Sue Hunton, is open during pre-arranged events only, and pre-registration is required. Please do not "drop by" the property as we cannot accept drop in guests. See our Events calendar for listings of events, and please respect the private property of the Huntons. Please do not bring your pets to the Singing Creek Center, except official assistance dogs, who must be kept leashed at all times.
The Huntons have a black Labrador dog named Holly, who is friendly and exuberant, and she loves to play catch. Please let us know if you have dog fears and do not play with her during programs as that can be disruptive to the group. Please do not chase the chickens or disturb any wildlife while on the property. No hunting allowed. When driving please stay on maintained driveway only. We ask that you do not linger on the property after picking up your child from camp or after an event is concluded. Additionally, please do not go near the pond or creek unless you are with a tour guide or instructor and have been invited to do so.
Knives and other weapons- Pioneers made use of tools such as knives and guns, but during camps or tours we do not allow these. The only exceptions may be the property owners or their farm hands, who may need to use these tools during the course of regular business, but will be kept safe on their persons and not used in the company of the children. Please do not bring knives or guns to camp, even artifacts or pretend ones. The only knives children may use would be butter knives on cooking day. If your older child is interested in knife skills, we recommend our friends at Whole Earth Nature School who offer training in that area.
Please comply with all requests from Singing Creek staff, property owners, and their farm workers while visiting the property. Please maintain a respectful demeanor including driving slowly, giving a wide berth to animals, keeping outside noise down, and picking up all your trash before leaving. This helps us all have a great time, and may improve your chances to see wildlife. Thank you!
Physical Address of Site
Please do not come out to the farm unless you are attending one of our scheduled events or have special permission from the Director. We need to respect the privacy of the property owners.
The Pioneer Schoolhouse and Bakery building are located at:
91949 Purkerson Rd.
Junction City, OR 97748
The granary building (Singing Creek Educational Center building) is located at:
92194 Purkerson Rd.
Junction City, OR 97748
The granary building is a little harder to find the first time you visit. It is at the end of a long gravel driveway, which is located one driveway north of the School House on Purkerson Road (1/4 mile up the street.)
From Eugene: Take Hwy 99 North past the Beltline and turn left on Meadowview. Turn right on Purkerson, which is 1.4 miles down.
The schoolhouse is on your left, and the driveway to the granary is the next driveway down on the left past the schoolhouse. It goes through the fields for .25 mi to some houses and the granary building, which will be on your right just past the chicken coop.