Living History Festival 2018
June 23, 2018 @ 11:00 am

-

5:00 pm

$5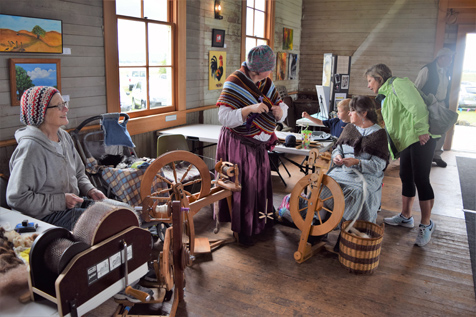 [cmsms_row data_padding_bottom="50″ data_padding_top="0″ data_overlay_opacity="50″ data_color_overlay="#000000″ data_bg_parallax_ratio="0.5″ data_bg_size="cover" data_bg_attachment="scroll" data_bg_repeat="no-repeat" data_bg_position="top center" data_bg_color="#ffffff" data_color="default" data_padding_right="3″ data_padding_left="3″ data_width="boxed"][cmsms_column data_width="1/1″][/cmsms_column][/cmsms_row][cmsms_row data_padding_bottom="50″ data_padding_top="0″ data_overlay_opacity="50″ data_color_overlay="#000000″ data_bg_parallax_ratio="0.5″ data_bg_size="cover" data_bg_attachment="scroll" data_bg_repeat="no-repeat" data_bg_position="top center" data_bg_color="#ffffff" data_color="default" data_padding_right="3″ data_padding_left="3″ data_width="boxed"][cmsms_column data_width="1/1″][cmsms_text animation_delay="0″]
Join us for the 4th Annual Pioneer Living History Festival at Singing Creek Educational Center, located at the Camas Country Bakery and Schoolhouse in Junction City. Go back in time and touch and explore crafts, music, historical exhibits, games, animals and more! For a small fee you can have a whole day of fun! Try the spinning wheel, make a bead, pet the horse, try the ring toss game and work the loom. Make a corn doll, wash clothes by hand, learn about the Native peoples of Oregon and touch furs and historical items at the Trapper's tent.
Cost is $5.00 per person and children 3 and under are free.
Address: 91948 Purkerson Rd., Junction City, OR
Music lineup includes:
10-11:25      Truman Price
11:30-11:50  Kim Collar and Youth Fiddlers
11:50-1:20   Oregon Old-time Fiddlers
1:25-2:40     Gossamer Strings
2:45-4:00     Porch Sitters
This is a family friendly event and is alcohol and drug free. No pets allowed. The schoolhouse and restrooms are wheelchair accessible. Please call Karen Rainsong for more information at 541 968-1986.
[/cmsms_text][/cmsms_column][/cmsms_row]