NEW for 2019: Join us at the Bohemia Mining Days Festival in Cottage Grove on July 18, 19, and 20. Find us at Coiner Park in downtown.
We will be running the Kids Zone and the theme this year is Opal Whiteley. All your favorite pioneer activities will be happening: Wash clothes on the washboard, pet the horse, work the loom, spin wool, make a corn doll, and make a leather bracelet. New this year will be a booth where you can make your own Fairy House and meet Opal Whiteley, the famous girl pioneer who communicated with animals and nature spirits. Take a picture with Opal!
We need your help with volunteering at the Bohemia Mining Days festival in July. Singing Creek Center is putting on a kids Living History Village and in order to do this we need volunteers to help in a number of ways. We are a non profit run almost entirely by volunteers so YOU are important. Please read all the way to the end.
VOLUNTEERING IS FUN
You can volunteer with your children or other family members. We can loan you some pioneer garb to throw over your clothing, like aprons. The idea is to make it look as authentic as possible to the 19th Century. Have fun helping patrons and then enjoy the rest of the festival for FREE.
Opportunities:
Set up canopies, tables and chairs on Wed and Thurs July 17th and 18th
Staff a  booth for a few hours on Friday or Saturday July 19th, 20th
Help with clean up and tear down on Sunday July 21st.
BE IN THE PARADE with us dressed as a pioneer and handing out little flyers on Saturday July 19th from 10am to 11am
Donate money or supplies so we can make this a FABULOUS event for local families!
Ready to learn more or sign up? Contact us.
Here are some materials we could use:
Foam core sign boards
Posterboard
10 x 10 canopies and folding plastic tables
Folding plastic tables (at least 6 foot)
Dry corn husks for the corn husk dolls
Here is what we have planned in the kids zone (Living History Village):
Carnival style games – win prizes!
Pet Banjo, the painting horse,
Meet the trappers and see their camp and gear,
Fiber arts tent (double wide this year!) and try the spinning wheel, loom, drop spindle and buy your pioneer bonnets and hats,
Make your own fairy house with natural materials,
Make a corn doll (boy or girl!),
Meet our "Opal Whiteley" pioneer girl and get your photo taken with her,
Learn about trees and nature,
Wash clothes on a washboard and hang to dry,
Make a stamped leather bracelet,
Try writing with a quill pen, and more!
PARADE info:
We are creating an Opal Whiteley float this year with the local historical society, and we want YOU to come march in the parade with us. You will need to wear some kind of historical looking 19th century costume (we can loan you something) and we need kids to come dressed as butterflies, animals and flowers to ride the float and wave at the crowd! This will happen Saturday the 20th at 10am in Cottage Grove. You need to be in our group, ready to go, by 9:45 am. The kids zone at the festival is not open during this time.
Opal is a famous pioneer girl who lived in Cottage Grove around 1900. She is the theme this year for the festival and the parade. Find out more about her here> https://www.storiesbysteve.com
Our Opal Whiteley actress, Sarafina, is getting costumed by our very own Sherrill Necessary, seen her in her "almost finished" dress. Doesn't she look great!??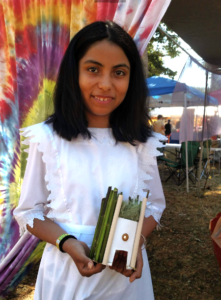 Our "star volunteers" are often given fun bonuses and offered free entry to events down the road. We hope you will join us!
---
Last Year:
4th Annual
Pioneer Living History Festival
at Singing Creek Educational Center & the Pioneer Schoolhouse
Located at Camas Country Mill Bakery, Junction City
Saturday June 23, 2018  10am to 4pm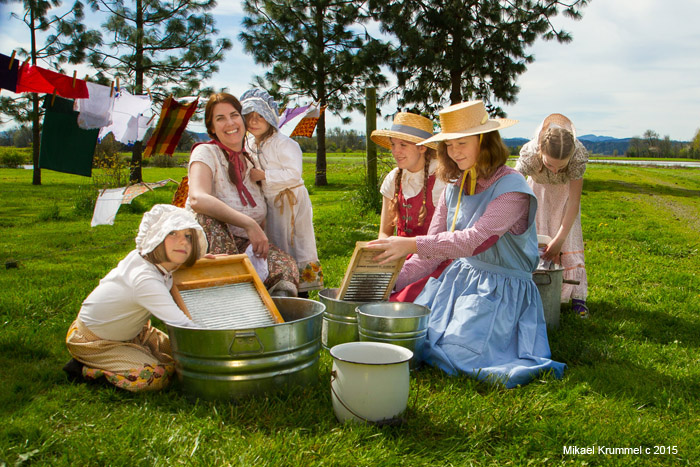 Cost: $5 per person, children 3 and under are free
Location: Singing Creek Educational Center at Camas Country Bakery & Schoolhouse.
91948 Purkerson Rd, Junction City, OR.
For more info email karen@singingcreekcenter.org
Thank you to our generous Fesival Sponsors! Please patronize these businesses:
 Enjoy hands-on family fun all day!
Washing clothes pioneer-style
Trappers camp with furs and trade goods
Weaving on a loom/ try a drop spindle/ learn about plant cordage
Make your own clay bead
Learn basket weaving
Try Spinning wool on the spinning wheel
Try some local honey/ learn about beekeeping
Play pioneer games: bean bag toss, knock the cans, and ring toss
Pet a horse and watch him paint a picture with a paintbrush!
Fiddle/Americana music all day
Explore our nature touch table: animal furs, bones and more
Watch the blacksmith at work
Make a leather bracelet
Learn about local history: Opal Whiteley, Pioneer settlers, and more
Fabulous Raffle with prizes like quilts, books, massage and restaurant gift certificates, and more!
Shop: beads, baskets, handmade soaps, and more!
Enjoy fresh baked goodies and lunch from the Camas Country Mill Bakery on-site
Try Lochmead chocolate ice cream
and more!
Join us for Live Music!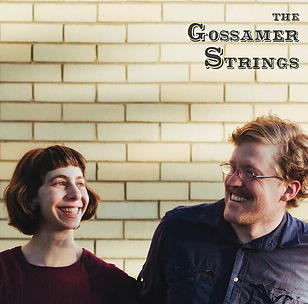 [
Check out the Gossamer Strings website.
Watch a slideshow from the past three years of our festival:
Shop from these vendors at the festival:
Bear Mountain Honey
Delicious honey products
Lola's Beads
Beads, shells, coins and jewelry
Tandy Leather
Leather crafts for all
Lars Hedbor- Author
Tales from a Revolution
and more!
The location is the Pioneer Schoolhouse, built in 1898, just next door to the Camas Country Bakery & Farm Store.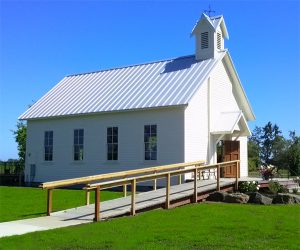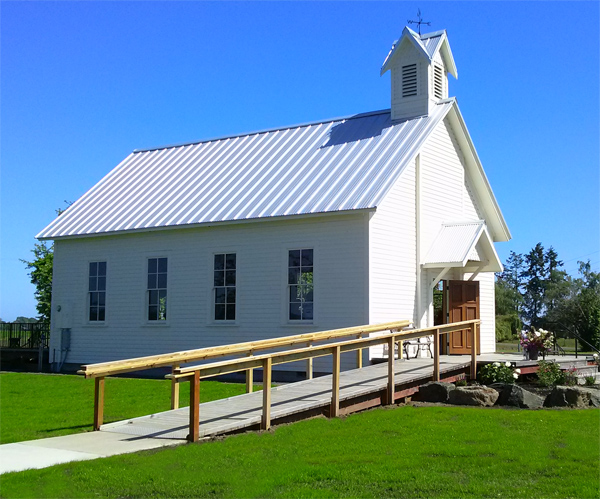 You will need to sign our liability waiver upon entering the festival. Please no pets unless they are clearly marked assistance dogs. This is a drug and alcohol free event. Please respect the neighbors; this is private property.
Parking is on a flat gravel driveway or on a flat mowed lawn. Please carpool to minimize impact on the property.
Address: 91948 Purkerson Rd. Junction City, OR
From Eugene: Take Hwy 99 North past the Beltline and turn left on Meadowview. Follow the signs for the Camas Country Bakery and Schoolhouse. Turn right on Purkerson, which is 1.4 miles down.