At Singing Creek Educational Center we share enthusiasm and passion for local history and the natural world around us with real, hands-on immersive activities– something you don't get from a screen. Children experience Oregon history and culture with instructors who are passionate about teaching. All of this is possible because of caring people like you.
This year we have a generous DONOR who will match our amount up to $500! That means every dollar you give will be DOUBLED, so we can make an even greater impact in the lives of local children. In addition, Facebook will match donations we receive on Giving Tuesday, which is December 3rd. Mark your calendars to make an even bigger impact on that day.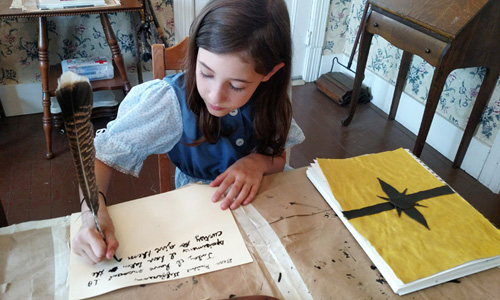 From Sophia, who attended our Lewis & Clark summer camp:
"Singing Creek attracts a lot of beautiful, creative minds. I made some good friends there. Before I went, I thought it would be a place where I would memorize stuff and maybe get to do a couple of fun things here and there. In reality, it's a place where you can let your imagination grow and learn about history in the most exciting ways possible.
I had a lot of fun with the activities and projects that we got to do. I learned how to walk on stilts and shoot sling shots. I learned how to make cordage and I found out what plants were edible around my own house. I learned about the big dog that Merriwether Lewis had and how many times Lewis almost died, which was a lot! I highly recommend Singing Creek Educational Center."
This is just one of our many testimonials illustrating the value of our programs to children and our community. We need your support to keep these wonderful programs going. The value is priceless.
Click Here to Donate on our Facebook page.
Your support means we can extend our programs into Lane County classrooms and public spaces this year, bringing history to life and instilling values such as perseverance, honoring elders, respecting nature, and teamwork.  It also means we can continue to hire quality staff who have enthusiasm and creative learning to share.
Our Goal is $500- Help us get there!
Through the support of generous donors like you we are able to share our dream with families who envision something more for their children– an educational experience that lasts a lifetime.
Or Donate another way: Volunteer your time, In-Kind donations, and monthly giving pledges.
Pioneers made the most of hard work and every dime they could save. We will use your donation to grow and refine the programs and events that your children love. For today, and for posterity.
Show your support. Please click here and contribute to our programs so we can nurture the values in children that lead to caring about the land, each other, and our place in history.
Thank you,
Karen Rainsong,
Executive Director
P.S. Your gift by December 31st is tax deductible to the fullest extent allowed by the law. We are happy to send you a receipt. Just email Karen at director@singingcreekcenter.org.  EIN# 47-3354809.
Sophia and her new camp friend are shown to the right, with the canvas bags they sewed themselves. See the pride on their faces!