Singing Creek Educational Center has been asked about our association with the term "pioneer" and whether our programs strive to portray pioneers with historical accuracy. To take a local example of the controversy surrounding the term, some members of the University of Oregon community regard the century-old Pioneer Father statue as an affront to Indigenous Oregonians. Some feel that by not depicting a Native person alongside this figure, the school is in effect presenting only one account of who our forebears were.
In using the term "pioneer," we simply recognize the historical fact that predominantly white settlers came west and used this term to describe themselves. As the Salem-based organization Oregon Black Pioneers notes, some of Oregon's pioneers were black. For example, in 1853 Amanda Gardner arrived in Oregon from Missouri with her former slaveowners, the Deckards. Gardner settled with the family in Albany and continued to care for them for years before marrying Ben Johnson, a former slave. Because the state constitution prohibited blacks from residing here, the Johnsons were exceptional Oregon pioneers.
Some white pioneers had positive relations with those already living here. Charles and Melinda Applegate settled in what is now Yoncalla on a site chosen for them by Camafeema, headman of the Komemma Kalapuya village Splach'ta Alla. When Camafeema refused to go to a reservation in the wake of the 1855 Willamette Valley Treaty, the Applegates intervened with authorities to ensure that Camafeema and his group remained on their land. These warm ties have endured to the present: Camafeema's great-great-granddaughter Esther Stutzman and Charles and Melinda's great-great-granddaughter Shannon Applegate live in the vicinity of their ancestors and have been close friends for decades.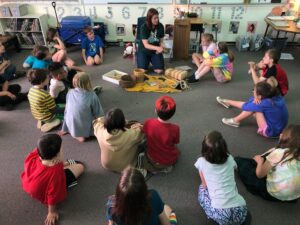 SCEC's pedagogical perspective is that since children are our primary audience, we present historical figures in an accurate but age-appropriate way. For instance, when talking about the settlement of the Willamette Valley, we discuss how diseases wiped out many of the Native peoples before many of the settlers arrived. We emphasize the dignity and longevity of the Kalapuya who were here for many thousands of years before the settlers, and who are still here today. We may speak about the forced relocation of Native peoples to reservations like Grand Ronde and Siletz in a way that children can understand and relate to, including encouraging compassion and learning from errors of the past. And we include examples of Indigenous people today and their continued presence on, and care of, the land. Of course, age of the listener plays a role in our wording and discussion of these events.
Our in-classroom presentation Kalapuya Ways and other programs with Native American teaching take care to teach in a way that is inclusive and respectful, sourcing our information from local books and research that involves local experts including Native persons. Our Kalapuya Ways curriculum has been vetted by the Curriculum Specialist for the Confederated Tribes of Grande Ronde in 2022. Although our instructors are not necessarily Kalapuya, they have been trained carefully and are encouraged to further their learning through classes and presentations offered by local Native people. Our artifacts and replica items are designed to be as close to authentic as possible. The Kalapuya Ways instructor may dispel myths, correct erroneous assumptions, and gently educate children about certain words or stereotypes that are not respectful in today's world.
In making the case for the continued use of the word "pioneer" in our programs and events, we are mindful that some members of our community respectfully disagree with us. As always, we welcome your feedback. Singing Creek Educational Center is deeply committed to diversity, equity, and inclusion in everything we do.