Flute. Riversong. Birds. Children. Dance. Family.
I was fortunate to be invited to participate in a three day campout with new friends at the Native American Cultural Encampment at Roaring River Park in Scio, Oregon. Deitz Peters and his wife Kathy were the elders who put on this incredible event. They invited the public to come during the day and meet Native people and learn about Native culture. We had many interested families join us throughout the weekend. On Saturday and Sunday there were traditional dances and throughout the weekend, much flute playing. They demonstrated how to put up a tipi and spoke about the meanings of the parts of the regalia.
I learned that the yellow roses in Kathy's beadwork were to commemorate her father. I learned that Deitz is one of the kindest, most sincere people I have ever known. And I learned that I'm ready to listen, learn, and share with my heart open wide in this community.
I brought some crafts and items from traditional Kalapuyan culture to share. It was wonderful to teach people about camas, flintknapping, atlatl throwing (some of those kids and adults had an incredible throwing arm!) and I led an earring making workshop with the ladies on Friday, with dentalia shell, abalone and feathers. After teaching Shane to make stinging nettle cordage, he promptly taught a visitor who was standing by him. It was wonderful to see the knowledge passed on in the moment. Now he is a teacher and I gave him some nettle sticks to take home. Others loved the atlatl so much they bought a kit online that day.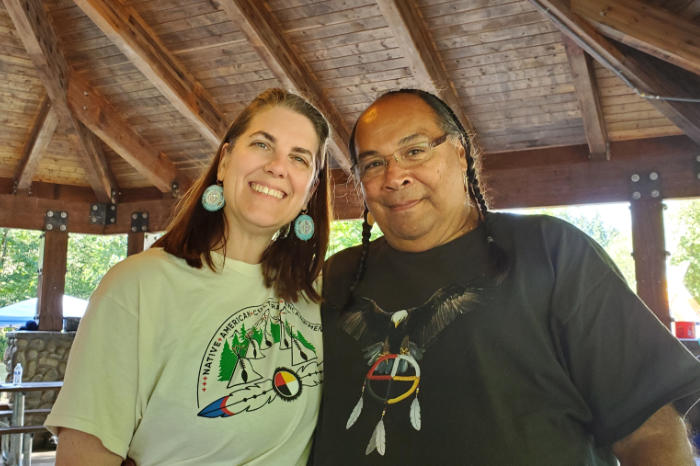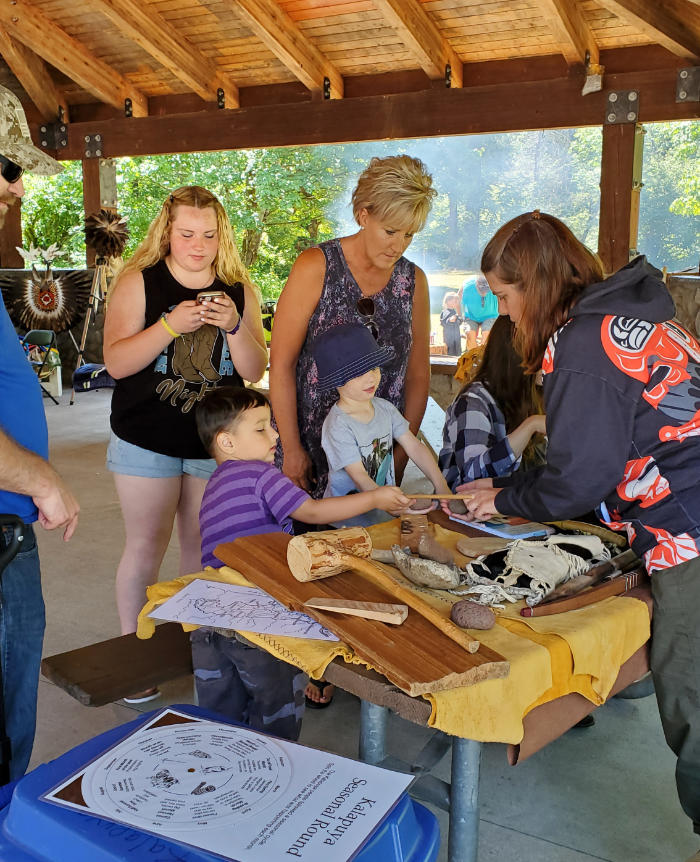 Throughout it all, the sound of the river just steps away, the cold clear water, and the numerous birds darting through the shrubs infused the camp with the energy of Mother Earth, Creator. I was so impressed with the respect and inclusiveness that I felt and witnessed all weekend. There were dances and regalia that specifically honored veterans, and mothers/grandmothers. Seeing the small children participate in the culture, dancing with their tiny moccasins, filled me with joy.
I cherish the new friends I made and am filled with so much hope. My spirit is refreshed, and I am already planning what to bring and share next time. I feel that all my life has been leading up to this point and I have arrived at a place of incredible beauty. So much gratitude.
Hiya Masi (Thank you)
Karen Rainsong