My ancestor, Benjamin Franklin Owen, recalls his journey on the Oregon Trail in 1853.
Post by Karen Rainsong.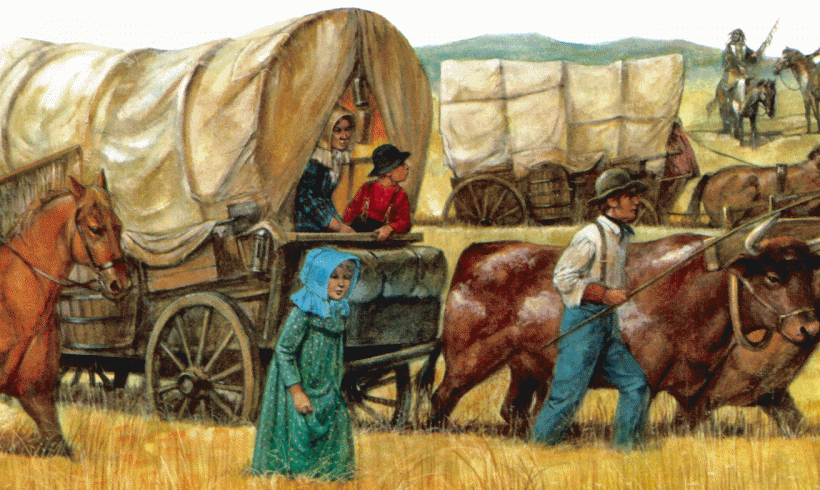 Benjamin Franklin Owen was one of eight young men who left the group of emigrant companies later known as "The Lost Wagon Train of 1853", to seek help. The train became confused in the Harney-Malheur lakes country and spent three extra weeks in desert travel, exhausting their Oxen and using up their own provisions. On September 14, 1853 B.F. Owen and Christian Norman with six others left the wagon train on horseback, resolved to hurry ahead to the Willamette Valley and send back help and food. They, too, wasted precious time and food in traveling too far south in the desert, but finally reached and crossed the Deschutes, missing, however, the dim blazes of the new road from the valley. They went directly to the Three Sisters, peaks in the Cascade mountain range, traveled between them and finally were forced to leave their horses in the mountains.
Isaac Briggs and some men hired by him, rescued Owen, Tandy, and A.S. McClure, three of the eight young men who were found in a starving condition up the McKenzie river from the present town of Thurston, on October 20th. Word of their coming had been taken ahead by five men who left the wagon train after their departure and who had passed them, in the mountains. The wagon train found the dim blazes on the Deschutes and came down the Middle Fork of the Willamette River, to reach the valley before Owen and his companions arrived. After reaching Oregon, Benjamin Franklin Owen went to the California gold fields. When he returned to Oregon he married Jane Curry McClure, daughter of James McClure, who had come in the same train. They were married on September 1, 1859. They lived at various places in Oregon where B.F. Owen farmed. He was a man of education as his narrative shows but his descendants believe he was largely self-taught. He was skilled in medicine and often aided his neighbors when illness attacked the pioneer families. He lost his own diary but reconstructed his narrative of the trip across the plains from another diary and his memory. Whose diary he used is not known but two of the McClures did write narratives of the journey.
Benjamin Franklin Owen was born November 24, 1828 in Calloway County, Kentucky, near Paducah. He was the son of William and Matilda Owen, both born in Kentucky. He was their fourth child and first son. His paternal grandfather was Reuben Owen, born in South Carolina, who moved to Georgia with his parents when eight years old, at the start Of the Revolution. In Georgia he married Martha Wells, daughter of William and Hannah (Boone) Wells. Hannah was a niece of Daniel Boone. William Wells fought in the American Revolution. Reuben and Hannah Owen moved to Kentucky where their son William was born in Hopkins County, January 20,1801.
William and his wife Matilda (Bourland) Owen moved from Kentucky to Missouri about 1834. On March 31, 1853, their son, B.F. Owen, with Christian H. Norman and Joel Kistner started from Bloomfield, Stoddard County, Missouri for Oregon. Enroute they overtook and later joined the McClure-Bond wagon train which had left Shaker Prairie, Indiana, for Oregon ten days earlier. Hearing at Fort Boise that a shorter route to Eugene in the Willamette Valley had been opened via a pass south of Diamond Peak in the Cascades and down the Middle Pork of the Willamette River, the train with which Owen was now traveling resolved to take this route.
An excerpt from his journals:
June 7th. We remained in camp & on that day I washed our dirty clothes & Cristy went out with his gun, &
killed a prairie Dog, that he brought back to camp, a perfect little beauty, spoted, white & black. The Magpies
were also very pretty, but Oh! What little pests, they were, at that camp. I got my washing done, & took a
gun, & went for a hunt that afternoon. In my rambles I came to quite a large Scope of country all covered
with willows, following along the margin of the Grove for a hundred yds or more, I came to and open way,
which I took in hopes that it would lead me into an opening, where I might find Deer. I did find an open piece
of about quarter of an acre, while anxiously looking for Game. I saw a few paces a head of me, & to my right
a huge monster of a snake coiled close to the Bushes. I had Seen many large Rattle Snakes But nothing to
compare with This, my first impulse was to Shoot it, but on second thought concluded that there might be
more of the kind near at hand that might intercept my pathway through that Thicket, so I desided to leave it
undisturbed, if it would let me alone. So I left it in peace, & have never blamed myself much for that little
piece of cowardice. By the description I've seen since of the Diamond Rattlesnake, I think it must have been
one of that Species.
The night before we left this camp Mr. Young's train was camped not half a mile west of us, & during the
night we heard a great tumalt of bawling among his cattle that we couldn't account for but the next morning,
one of his men told us that some of those monster Gray Wolves came into their Band caught & hamstrung, &
Killed a nice fat four year old cow, while the men on account of the rage, & frenzy of the cattle didn't dare
even try, to go to her rescue, for there were nearly 150 head of them.
Francis Marion Whiteley and Cassandra Boone, Opal whiteley's ancestors, left for the Oregon Territory in an ox-drawn covered wagon in 1854. I am related to both Daniel Boone and Opal Whiteley- and apparently Benjamin Franklin Owen.
Here's Opal Whiteley's genealogy:
George Boone III and Mary Boone
|
Squire Boone- married Sarah Morgan
|
Daniel Morgan Boone, Sr. married Rebecca Bryan
|
Daniel Morgan Boone, II married Sarah Griffin Boone
|
Lindsey Boone married Sarah (Grooms) Boone
|
Cassandra Boone married Francis Marion "Frank" Whiteley
|
John B. Whiteley married Elizabeth Davis
|
William Riley Whiteley married Maria Louisa Stanley
|
Charles Edward Whiteley married Mary Elizabeth Scott
|
Opal Irene Whiteley
My Grandmothers Great-Grandma married Charles Davis, who was a grandson of Daniel Boone. His Mother was a daughter of Daniel Boone (still trying to find out her name.)
Daniel Boone
|
Unknown daughter?
|
Charles Neiswaner Davis married to Anna Cornelia (Culvelier) Davis
|
Carrie Elizabeth (Davis) Shannon married Benjamin Franklin Shannon
|
Lydia May Channon married Charles Henry Trierweiler
|
Lydian Ann Trierweiler married Antonio Cherry
|
Rosalie Mae Cherry
|
Karen Rainsong (me!)