I am related to Opal Whiteley!
I was reading a book about Opal Whiteley that I had been given by Sue Hunton, and I discovered that Opal and I are related! We share a distant relative, Daniel Boone. I immediately dug through my old paperwork, found my genealogy packet, and opened it up. It was like a hundred pages long! But there on top was a clean white piece of paper with the words "How We Are Related to Daniel Boone" across the top. I could kiss you, random-relative-who-made-this. The research showed that my Grandmother's Great-Grandma married a Charles Davis, who was a grandson of Daniel Boone. Hence I am related to Daniel Boone. He is my 7th generation Grandpa.
I hit the internet and discovered after a few hours of digging that Cassandra Boone, granddaughter of Daniel Boone, married Francis Whiteley, and they had a son named John Whiteley, who had a son named William Whiteley. He had a son named Charles Edward Whiteley. He would become Opal's dad.
It is a wonderful feeling to know that Opal and I share a common ancestor- no wonder I have always felt so connected to her! I have had the dream of honoring her somehow….The Singing Creek Educational Center is named in her honor. I am hoping to find a donor who can help me create a plaque to honor her at the new site. Once we get established, hopefully in our new location long-term, we can explore other ways to honor her. What a joy!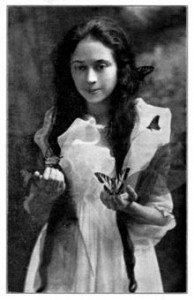 I am filled with visions of Opal today, as I daydream toward the woods…..
-Karen Rainsong, Executive Director, Singing Creek Educational Center