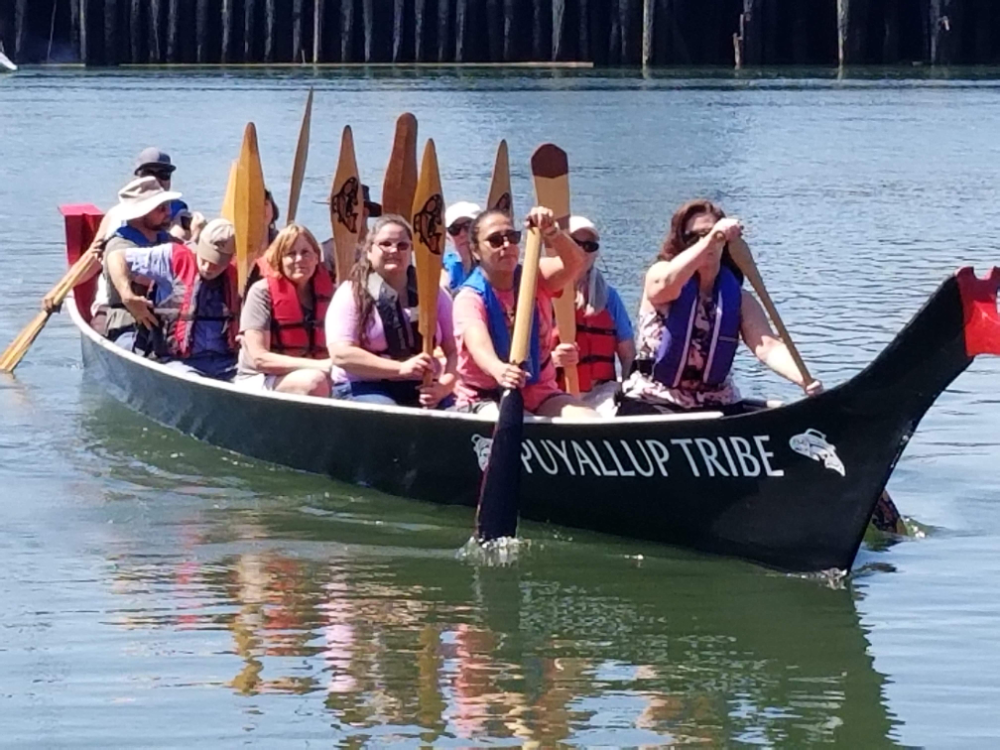 It calls to mind the recent events I've attended in Oregon and Washington featuring Indigenous Pacific Northwest peoples, including their stories, language, music, history and culture. In June of 2022 I attended the weeklong annual conference of ALHFAM (Association of Living History Farms and Museums). It was held in Tacoma, Washington and featured speakers, a canoe trip, reservation tour, museum tour, and traditional foods, stories, music and craft projects from several local tribes. These things were the most memorable part of the weeklong conference for me.
The Puyallup Tribe of the Tacoma, Washington area shared with some of us how to make cedar roses and brought us along on a canoeing adventure in the sound, including singing of traditional songs and stories about Mount Ta-Quo-Ma, and more. Several of us were able to go on a personalized tour of the reservation by bus with a few of their Indigenous leaders.  One of their knowledgeable elders was the keynote speaker for the conference, where we learned much about the history, traditions, and modern reclaiming of cultural heritage. I felt very blessed to be able to learn from them, and humbled by their gifts to me, both tangible and intangible.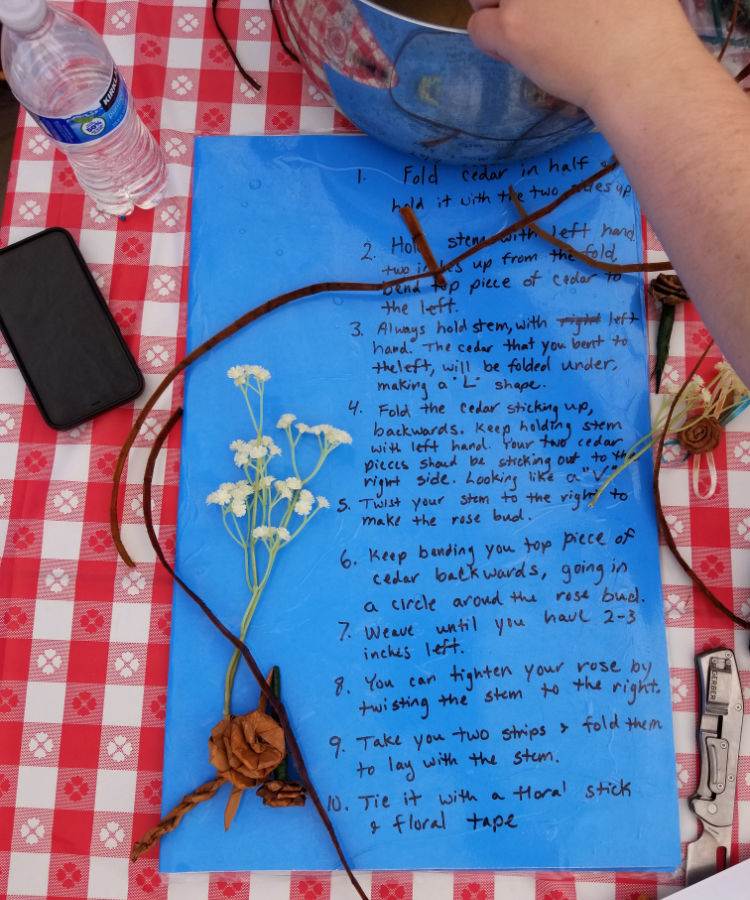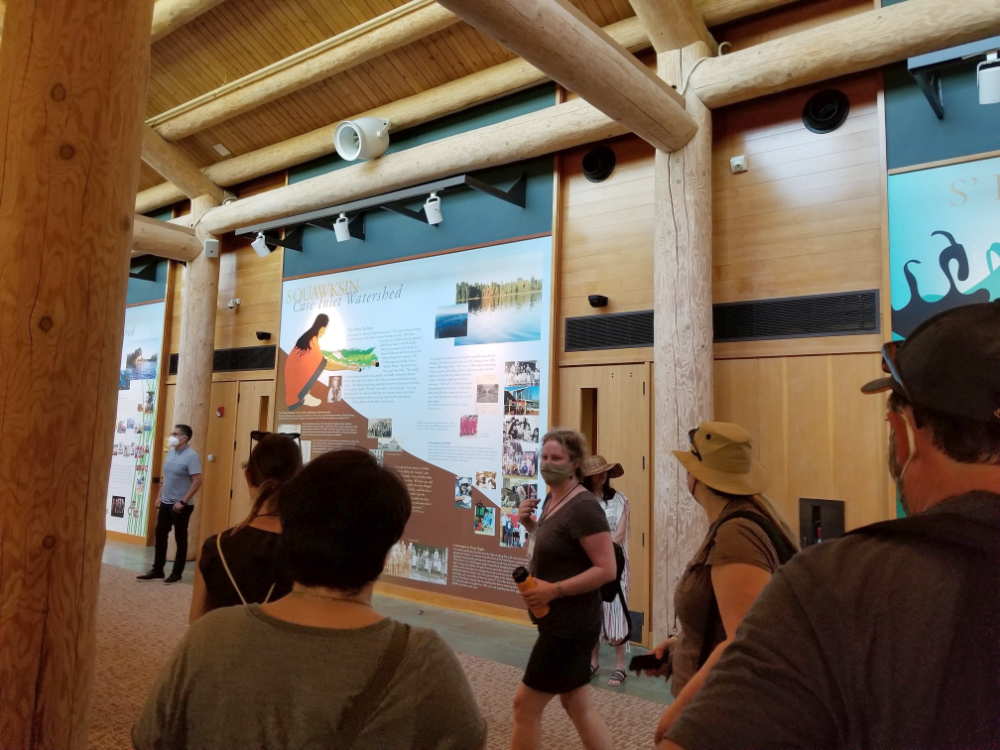 It was so inspiring to meet these Indigenous People and learn from them- not only about their past history, but currently emerging traditions, stories, and work done to pass on these cultural heritage ways to younger generations. The Squaxin Island tribe hosted us at their cultural center and museum for an afternoon, preparing fresh oysters and clams for us, and sharing a song with drumming of welcome. We created little leather pouches with them, and they offered us tobacco to fill them with, explaining about the sacred significance. The museum had many artifacts and displays, including about language, stories, and cultural knowledge.
My greatest takeaway from these experiences was the feeling of immense humility and respect towards the Indigenous Tribal culture bearers and leaders that hosted us with such grace. The museum was carefully thought out and contained a modern art exhibit about Native women who had been victims of violence and human trafficking. It was thought provoking and powerful.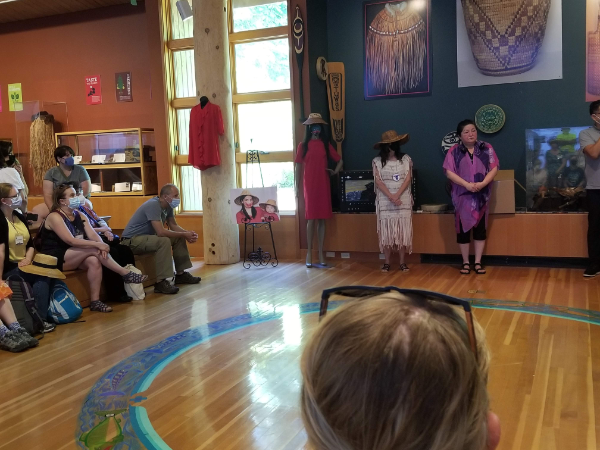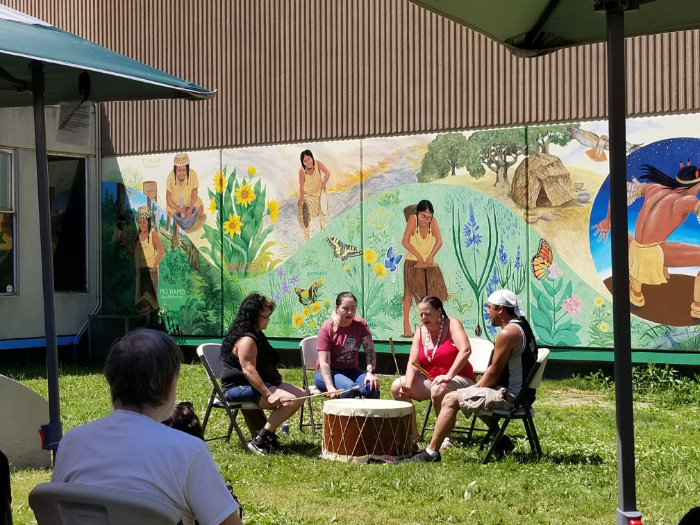 In the Fall of 2022 I attended the dedication ceremony of the new Kalapuya Mural in Eugene at Westmoreland Park. It was wonderful to see and hear the stories, comments, songs and traditions of the Kalapuya people. Many people attended and the feeling I experienced was respect, admiration, and hopefulness. A dedication and traditional songs were given by Shannin Stutzman, a local Kalapuya storyteller, and her group Splacta Alla. It is a masterful work of art and a beautiful visual seasonal round depicting traditional foods, animals and lifeways of the Kalapuya people. 
Also in 2022 I was invited to attend a Summit for Educators in Oregon, by the Confederated Tribes of Grand Ronde. I camped by myself in the Oregon woods owned by the tribe, in order to arrive early in the morning at the seminar. I learned a lot and met many other educators in Oregon who are interested in learning about the Tribes and their cultural heritage. It brought home to me how heritage is a living, breathing thing that grows and changes over time. I felt deeply indebted to the tribe for their gracious sharing of thier cultural knowledge.
– Karen Rainsong, Executive Director, SCEC