A warm moist wind stirred the leaves up with a crunchy sound. The air felt expectant as we bustled around the granary setting out pumpkins, twigs, and sweet treats. Pioneer quilts were hung, candles lit, and the rehearsal of the shadow play finished. Soon the smell of warm apple cider and pumpkin bread drifted over from the bake sale table. Our volunteers Liza, Sherrill and Alec relaxed and joked till the magic hour.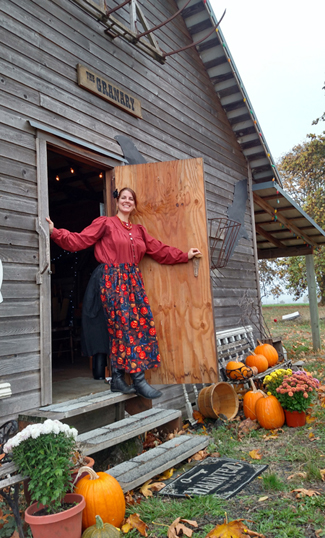 Then, suddenly, there were here! Kids and families started arriving and the festivities began…. With crafts like make your own lavender ghost and witches broom, the scene was happy, warm, and full of smiles. We even painted our own paper lanterns to take home. Kids made a halloween bookmark and we went outside to play Apple Snap! The kids tried and tried to take a bite out of their apples with hands behind their backs. Parents laughed and took pictures, and we finally had a winner! One winner each in two rounds, and they got a gift certificate from Dancing Weasel Toy Store. Soooo much fun and big smiles! Then back inside for a spooky shadow puppet show. The lights were dimmed, chairs brought over, then we saw how the naughty hobgoblin got tricked by the jack-o-lanterns the townspeople made, and scampered back to his home in the dell, never to be heard from again. Following that the kids made their own shadow puppets and staged a spooky sight on the white screen theater. Everyone got to take home a pumpkin and we sold lots of yummy treats from the bake sale table!
Thanks so Sarah, Lynne, Rees, Rhianna, Sherrill, Alec, Liza and all our other volunteers for a fabulous event and all your hard work.  And thank you so much to our sponsors of this event:
Dancing Weasel Toy Store
Camas Country Mill
Groundwork Organics
Please patronize these businesses and thank them for supporting wonderful children's programming!
We hope to do this again next year, especially now that we have all the decorations and have all the games and crafts worked out. We can always use more volunteers so let us know if you want to help with the next special event!      WATCH SLIDE SHOW BELOW
[rev_slider alias="halloween"]