We had two natural science classes for older kids at Custom Cranium taxidermy shop this fall, and they were totally awesome!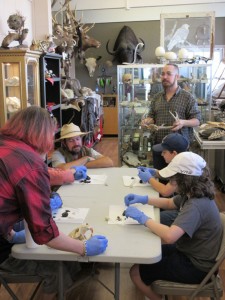 Animals of Oregon on Sept 19th  featured learning about skulls, adaptations, and owl pellets. We also found out about what to do when faced with certain animals on a hike, and which ones are dangerous. Everyone got to put on rubber gloves and dissect the owl pellets which were soft, and tease out the tiny mammal bones. We got to take home the findings in a test tube. Both Adam and Darian, the owners, are knowledgeable about all kinds of animals, and they even have a lab in the back with flesh-eating beetles, so they can strip a carcass and use the bones. These guys make learning fun with their relaxed, smiling attitude. They love questions! The more participation the better.
Custom Cranium features Osteo-Oddities and they have all kinds of materials for making arts and crafts, as well as some finished walking sticks, jewelry, furs, and more.
That was a fun class! The kids all seemed interested, and the folks doing the class were very engaging and approachable. Glad we signed up! -Q
I took my grandson and his cousin to the Bats and Creepy Creatures workshop. We were early birds and the last to leave(!) so you know we all had a great time. We learned so much from how to tell male from female when looking at a human skull from the 18th century to seeing rare specimens (both dead and alive!) The kids love the bone necklaces they made at the end of the workshop and have been showing them off all day! What a successful event–I loved being there! Thanks–what FUN!
-Lynne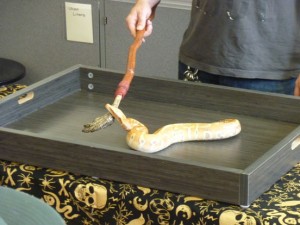 Bats and Creepy Creatures  on Oct 10th featured some crazy cool live animals and some skeletons, as well as preserved animals in jars. Adam taught us about snake evolution, bat wings (they are really fingers, not wings) and scorpions. He brought out his pet "Sprinkles" the Vinegaroon (whip scorpion) and we got to learn about why he got that name. Then he brought out his albino python who was angry today, and it bit him, (but he is so tough he just shook it off!) We got to learn about the different types of albinism, and see his pet rattlesnake, who he poked with a stick so it would shake it's rattle. I personally have never heard a real live rattlesnake's rattle, and it was really cool. Now I'll never forget that sound! Some of the kids sitting in the front row were shrinking back a little and looked worried- just the perfect amount of scariness for Halloween time. Plus these guys were playing some chilling halloween music in the background. My son's favorite was the Mantis Shrimp, that makes a sonic boom with it's front pinchers, which are really jaws and not pinchers at all. The material they are made of is super light and stronger than steel, which is being studied by scientists for military applications. They had one preserved in a jar so we could get a good look. You can't keep these things for pets- their shock wave to catch prey is so strong it would shatter the glass on an ordinary aquarium!
We got to make creepy hand necklaces with tiny dried hands of opossums and raccoons. Some people thought they were too creepy and made necklaces with antler and bone beads instead. The owners have so many supplies that the possibilities are endless.
Thank you Adam and Darian for opening up your shop for us and making learning about animals so fun and interesting!