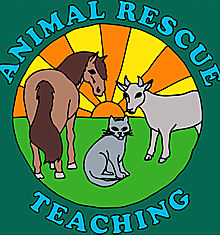 Saturday May 6th
11am to 1pm
Kids aged 5 and up. Cost: $30 per child. Adult must stay with participating child.
Space is limited; sign up early!
Join us and help support our friends Animal Rescue Teaching while you learn about horses and have a lesson. We'll dress as pioneers and learn about how valuable horses were to pioneers and early settlers, then saddle up for a wonderful riding lesson! Trained and patient instructors will help you learn about holding the reins, giving commands to your horse, and horsemanship. The horse riding area is a covered arena. Then we create some horse themed art and take home some fun horse fact sheets. Get your picture taken with your pioneer horse for the day, and show us your pioneer spirit! (Professional photos may be purchased for a small additional fee.)
The mission of Animal Rescue Teaching for Any Level of Learner is to rescue and rehabilitate animals using them for education of people young and old. They are a non profit and Karen (our director) has experience there taking lessons with her family. The Animal Rescue farm also has goats and a friendly cat, so come say hi!
Bring a sack lunch and drink for this event.