For Teachers: History and Nature Curriculum -Online!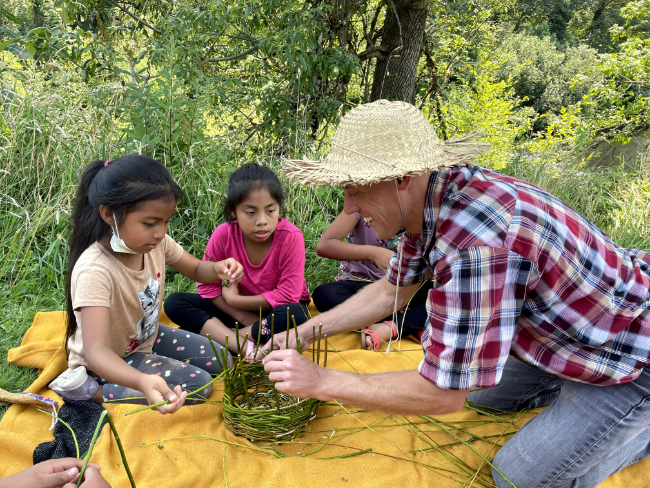 Exciting and Engaging Curriculum Online for Your Students
$30 a month subscription for your school class- maximum of 35 students
Our online enrichment curriculum includes history lessons, tours of farms, museums and other interesting places, with a kid-friendly perspective. Each month will feature a different kid "ambassador" who is featured in at least one video. Scroll down for a sample.
We will offer an interesting and unique educational enrichment program for your students using pre-recorded videos, worksheets, recipes and resources for you to use at home. This material has been created for our online homeschool program, but we are offering it to you for your classroom at a discounted rate. We may offer one in-person meeting, outside with masks on, at our facility sometime during the year (TBD). Our enrichment curriculum is designed to work well for boys and girls of varying ages (usually 6-12 years old) and will include an optional homework assignment and extra credit assignment each month.
Once you enroll, you will receive an email each month with the unique password for you to access the protected page on the back of our website. There you will find several videos and downloadable worksheets, as well as resources for further study. This private page will be available to you until the end of the school year in June. If you sign up in the middle of the program, you will receive access from the month of your enrollment until June.
If you decide the program is not what you wanted, you can cancel at any time, with no penalty.
Please contact our Director, Karen Rainsong, for questions about this special offer for school teachers only: director@singingcreekcenter.org.
SCROLL DOWN for signup form.
Teachers love our curriculum!
"My class had a great time at the Singing Creek Center! They especially liked all the hands-on activities. They really enjoyed trying to write their names and drawing maps using the quill pens. The staff at the Singing Creek Center even dressed up to enhance the experience. We are looking forward to coming back again next year!"
-Steve Sadiq, Dorena 4/5 teacher
A Look at the Online Learning Program
Guiding Principles: Sharing education and resources related to living in harmony with the earth, sustainability, and learning about historical ways, tools, and people. We feature Indigenous knowledge and voices in each month.
February's Curriculum, Justice and Inclusion, is FREE for all.
Check it out here
Monthly themes:
September- Cooking & Gardening
October- Opal Whiteley Spirit of Nature
November- Fiber Arts
December- Storytelling
January- Women's Suffrage
February- Justice & Incusion
March- Mapping & Observing (Lewis & Clarks Expedition)
April- Caring for the Earth (Climate Change)
See two sample month's offerings below.
Sample video lesson
Matt Hall- Al Kennedy High School Garden 

Gardens
Pollinators
Native plants
Cross-pollination
and more!
Sign up below and join us each month for tons more videos, worksheets, homework, and more!
September
COOKING  & GARDENING
Videos and more
Tour of a local school garden, native plant nursery and pollinator hotel.
How to churn butter at home- by Madilyn (age 11)
Tour of a local granary and bakery- how is grain turned into flour?
Tour of a local biodynamic farm- how to harvest apples and make cider, tour of a cool treehouse with Ivan (age 13), what does biodynamic mean?
Wild edible plants walk, how to harvest sustainably, listening to the earth
Native Connection: Video: First Salmon Ceremony with Grandma Aggie on the Rogue River.
Homework: Several question sheets that accompany the videos for you to work on in your journal at home. Test your knowledge! Also: Churn your own butter or grind your own grain at home.
Extra Credit:  Made a video showing something you cooked or grew in a garden or in a pot. Post it on our SCEC Home school facebook group or email to Karen.
October
OPAL WHITELEY : Spirit of Nature 
Videos and more
Discovering a Gem: On the Trail of Opal Whiteley. A fun video exploring Opal's life and legacy, with Karen and Brook the History Dog.
What are the insects doing in the Fall? How should you treat the small creatures you find? How to help the tiny creatures in your yard.
How to make an inviting Fairy House- by one of our students
Video Pioneer School lesson by Miss Tricia Powell, circa 1890
Native Connection: What is Reciprocity? How to respect nature and give thanks when harversting.
Homework: Get or make a quill pen or a metal caligraphy pen. What would you say to Opal if she were a friend of yours? Write a letter to Opal Whiteley. Dry it carefully and take a picture of it and send to us or post on our Facebook group.
Extra Credit: Use your journal and find a special "sit spot" in your yard or nearby safe natural place. Sit quietly and observe nature for awhile and record your observations in your journal. Write about what you see, hear, smell, taste and feel.
Cancellation policy:
We expect that you will love our curriculum! If you find that it's not for you, you may cancel your subscription through Paypal. As a non-profit organization our budget is very limited and we count on your registration in order to provide the highest quality programs. The custom online curriculum is copyrighted to Singing Creek Educational Center and we appreciate it if you don't share it outside your classroom. (We may also use other third-party resources that are not part of our copyright.) Thank you for your understanding.
Please take a look at our YouTube channel to see videos of kids having fun in our programs, and check out our other pages for more info. Please LIKE us on Facebook as well!
Contact our Director for more information.