[cmsms_row data_padding_bottom="50″ data_padding_top="0″ data_overlay_opacity="50″ data_color_overlay="#000000″ data_bg_parallax_ratio="0.5″ data_bg_size="cover" data_bg_attachment="scroll" data_bg_repeat="no-repeat" data_bg_position="top center" data_bg_color="#ffffff" data_color="default" data_padding_right="3″ data_padding_left="3″ data_width="boxed"][cmsms_column data_width="1/1″][cmsms_text animation_delay="0″]
Have your child's birthday party with us at Singing Creek Educational Center and enjoy pioneer themed games, crafts and activities!
You choose from a menu of options and we provide the costumed pioneer staff to make it happen. All you do is bring the refreshments and kids. We love to have fun in the old fashioned style of the 1800's in the Oregon Territory. We even provide dress up clothes for girls or boys. We can work the loom, play pin the tail on the pony, nature bingo, learn to square dance, play a bean bag toss game, play with pioneer hand toys, watch a shadow puppet play, and more. And if your party guests have brought gifts, we can have your birthday child open them.
Let's talk about what your child loves and how to make their birthday dreams come true!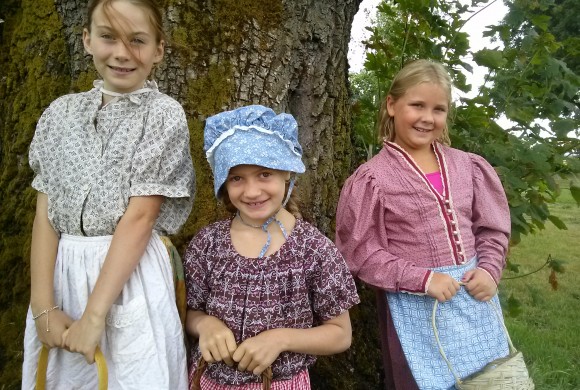 We provide:
Decorations
Activities and games
Costumed staff
You provide:
Invitations
liability release form signed by each participant
refreshments and disposable dishes
party gifts
guests!
Cost: $125 for a two hour birthday party
The fine print:
Parties can be booked any time of the year, and are held inside the pioneer "homestead" – a granary building which is essentially like a barn. We do have heat and light, but in keeping with the era, it can be drafty and is somewhat rustic. Please remember to dress your child in clothes that can get dirty without any problem. Bathrooms are a port a potty which is outside. Please remember to dress warmly in the rainy months.
We do not have running water in the building but we do have a dish washing area and a hand washing area. There is no landline so we suggest you bring your own cell phone. Our staff will have working cell phones with them. Parking is right out front of the building and we do have a place to hang coats and purses. Please no pets allowed on the premises. There are two steps leading up to the granary building at this time (we are working on getting a ramp for alter-abled guests.) Make your check payable to Singing Creek Educational Center and please mail it to us at least one week before the party. Our mailing address is 2045 McKinley St, Eugene OR 97405.
Please contact our Executive Director, Karen Rainsong, for more information: karen@singingcreekcenter.org.
REQUEST A PARTY NOW- Please fill out the form below.
[/cmsms_text][cmsms_text animation_delay="0″][/cmsms_text][/cmsms_column][/cmsms_row]